Dentures vs Implants: Which Is Right for You?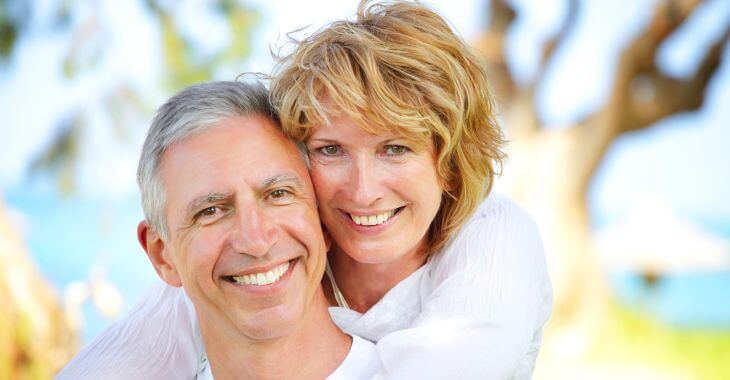 Dentures have been used for centuries to provide replacements for teeth and they are still the most common solution for replacing lost teeth. Dental implants are now another option for tooth restoration, giving patients more choices. Before you decide which is right for you, consider dentures vs implants, pros and cons.
Denture Basics
The first dentures were used thousands of years ago – teeth have been replaced with wood and bone well before the invention of modern dentures. Most dentures are now made from acrylic and plastic, formed to fit over the gums and provide natural-appearing and functional teeth.
Traditional dentures are supported by the gum tissue. Once a patient becomes acclimated to their dentures, the gums and arches create a suctioning affect that holds the teeth in place. Adhesives are also used to secure the dentures and create a seal to keep particles from getting between the denture and gums.
Traditional dentures come in partial and complete options – partials only replace a few teeth while complete dentures replace both upper and lower arches. However, there are other types of dentures available that can be combined with implants for snap on or permanent dentures.
Dental Implant Basics
Dental implants are surgically placed into the jawbone. The dental implant is designed similar to a natural tooth with a post that is embedded in the bone like a tooth root. The post is made from titanium and looks like a screw. Once in place, the bone fuses to the post to secure it in place.
The dental implant post is the "root" of the tooth restoration, which can be connected to a variety of restorative devices. An abutment is attached to the top of the post, which can connect to crowns, bridges or dentures. Dental implants are used for single tooth or complete mouth restorations.
Dentures vs Implants: Pros & Cons
Both dentures and dental implants can provide new, functional teeth to improve your appearance and mouth function. However, there are many differences in how they perform and the cost to the patient. Both have pros and cons – here are some of the differences in implants vs dentures:
Dental Implant Pros

Dental implants offer a permanent solution for replacing teeth. The success rate for implants is extremely high and many patients have their implants for the rest of their lives. Some of the other pros for implants include:

No adhesive is needed to hold prosthetic teeth in place – dental implants will not slip or move like dentures.
Implants stimulate bone growth, reducing bone loss in the jaw for a more youthful facial appearance.
Dental implants do not need to be removed like dentures and restorations can be cleaned like natural teeth.
Dental Implant Cons

The biggest concern for most people with implants is the cost. Each implant may cost thousands of dollars – a full mouth restoration can be more than many patients can afford. Patients must also have enough bone density to support the implants, which can require a bone grafting surgery.

Denture Pros

Almost anyone with missing teeth can use dentures for a smile restoration. Modern dentures are much more comfortable and natural-looking than ever before. The biggest benefit of dentures is the cost – they can cost a fraction of a dental implant mouth restoration.

Denture Cons

Since traditional dentures are removeable, they can move and slip when chewing, talking or laughing. This can be embarrassing for patients. The adhesive is also not enjoyable for many patients due to its texture and taste. For some, dentures can be uncomfortable and feel unnatural.
When considering the pros and cons of dental implants vs dentures, it often comes down to cost and whether the patient is an ideal candidate for implants. Most patients would prefer dental implants, but may not be able to afford the option or qualify for the procedure.
Permanent Dentures vs Implants
A hybrid option that can include some of the pros of both dentures and implants is permanent dentures. Also called implant-supported dentures, this option uses dental implants to secure dentures in place. Permanent dentures are less expensive than full mouth implant restorations, and include a few different options:
All-on 4 – four implants per arch
All-on-6 – six implants per parch
Implant-supported overdentures – usually 6-8 implants per arch
Snap-on dentures – removeable dentures that "snap" into place with a implant-supported device
For many, the permanent denture with the denture/implant combination is a cost-effective solution that offers the stability and function of implants without the high price of a full mouth restoration.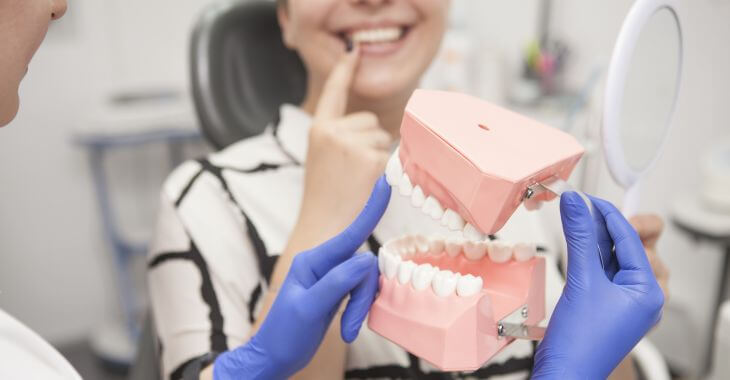 If you are considering tooth replacement and looking at dentures vs implants, there are many different options available. Talk to your local dentist that offers both dental implants, dentures and permanent dentures to discuss which is right for you.
Was this article helpful?
The information provided on this website, including text, graphics, images, and other materials, is intended solely for informational purposes and should not be used as a substitute for professional medical advice, diagnosis, or treatment.