How to Use Invisalign Cleaning Crystals
Published on: December 5, 2021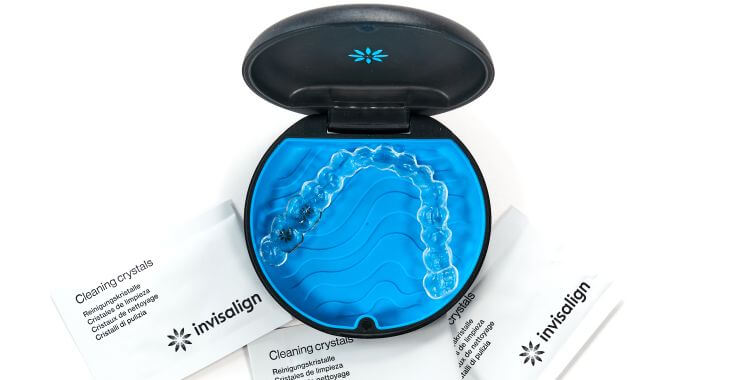 If you are straightening your smile with Invisalign® clear aligners, there is maintenance you need to perform on your aligners. People love Invisalign over traditional metal braces for teeth straightening due to their discreet and comfortable aspects, but they do require cleaning and sterilizing. The best option for maintaining your aligners is cleaning crystals. Invisalign cleaning crystals are designed to keep your aligners clear, bright and sanitized. Here is what you need to know about how to use Invisalign cleaning crystals.
Why Clean Your Invisalign Aligners?
Invisalign aligners need to be worn 22 hours a day to be effective. This means they stay on most of the time, accumulating the same bacteria, food debris and plaque as teeth. If not cleaned, the clear aligners can become stained and off-color, impacting their clear appearance. More importantly, the plastic can be covered in bacteria that can impact your oral health. Just like your teeth need to be cleaned twice a day, your Invisalign devices should also be cleaned twice a day to keep them sterilized and looking beautiful.
What Are Invisalign Cleaning Crystals?
Invisalign cleaning crystals are designed for Invisalign aligners and use safe, non-toxic disinfectant to clean the BPA-free plastic. The crystals quickly break down food debris and kill bacteria that collect on the plastic aligners throughout the day. By cleaning your aligners twice a day with the recommended crystals, you can avoid bacteria buildup and stains on your aligners. This will improve the appearance of your aligners as well as avoid unhealthy bacteria that can affect your oral health and breath.

Invisalign Cleaning Crystals Instructions
Keeping your Invisalign aligners clean should be a priority. After all, you are putting these trays into your mouth, and they are visible when you talk and smile. The good news is, it is easy to learn how to use Invisalign cleaning crystals. They should be used as part of your oral hygiene routine – you can clean your aligners as you brush your teeth in the morning and before you go to bed at night. Here are the Invisalign cleaning crystals instructions:
Rinse your aligners under warm, not hot, water to remove any loose debris
Put your aligners in the provided cleaning cup
Fill the cleaning cup with lukewarm water, enough to completely cover your aligners
Pour the cleaning crystals packet into the cleaning cup
Once the crystals dissolve, add your aligners to the cup
Let your Invisalign aligners soak in the solution for 15 minutes – this is a good time to brush and floss your teeth
Remove the aligners from the solution and rinse under warm water to remove any crystals
Use a soft toothbrush to scrub the inside and outside of each aligner to remove any leftover debris
Rinse the aligners under running water one more time to rinse away any particles
Dry your aligners with a soft cloth – you can let them air dry while you finish flossing or getting ready
Put your aligners back in over clean teeth
Keeping your aligners clean will help them stay clear and invisible, plus it prevents bacteria from flourishing around your teeth. Use the Invisalign cleaning crystals twice a day to get the best results.
Keeping Your Invisalign Aligners Clean
Between using cleaning crystals, Invisalign aligners can be kept clean by following a few tips. You don't want to have food stuck in between your aligners and teeth! Remove your aligners when you are eating and when drinking dark beverages (coffee, tea, red wine). This can prevent particles of food getting stuck in your aligners and stains on the clear plastic. Brushing or flossing before putting your aligners back on can help remove any food debris on your teeth.
When you take your aligners out, make sure to store them safely in their case. This can help protect them from damage and keep them sanitized. Remember, even though it is safe to remove them for eating and drinking, you do need to wear them for the recommended time each day for the best results. Make sure to put them back in as soon as you are done eating to continue your orthodontic treatment.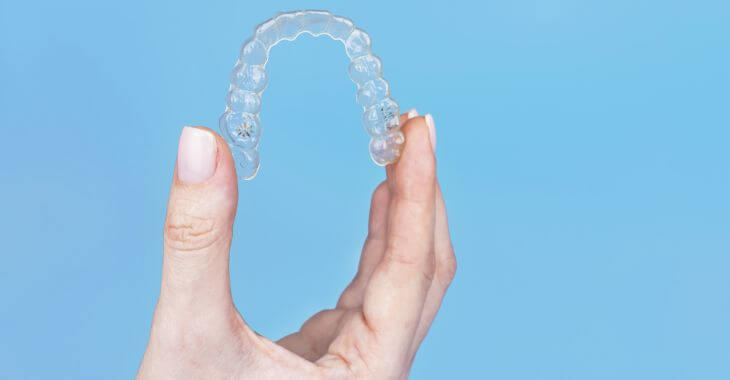 Invisalign Cleaning Crystals for Retainers
Just like your Invisalign aligners, you should also use cleaning crystals for your retainer. Once your initial orthodontic treatment is over, you may only need to wear a retainer part of the day or night. Make sure to clean your retainer after use and store it in its case to keep it sanitized.
It is important to know how to use Invisalign cleaning crystals effectively to keep your aligners clean and disinfected. Talk to your dentist about the best way to maintain your Invisalign system to protect your teeth, oral health and your orthodontic treatment investment.
Was this article helpful?
The information provided on this website, including text, graphics, images, and other materials, is intended solely for informational purposes and should not be used as a substitute for professional medical advice, diagnosis, or treatment.