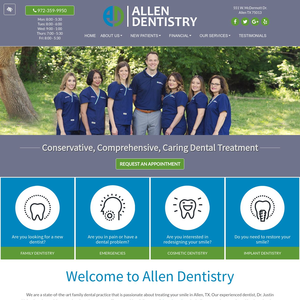 About Allen Dentistry
A chipped tooth can happen to anyone. Even the healthiest teeth are vulnerable to fracture under certain circumstances. Whether you chipped your tooth during dinner or while competing in a sporting event, we can handle your smile repairs at Allen Dentistry. Our state-of-the-art dental practice is uniquely equipped to treat all types of dental concerns, whether they pertain to your oral health, dental function or your smile appearance. In some cases, a chipped tooth can compromise all of these components of your teeth. Therefore, we offer Allen residents the chipped tooth treatments they need in the timely manner they deserve.
Our experienced dentist, Dr. Justin Nylander, along with our caring dental support staff can perform a full scope of dental services, including general, cosmetic and implant dentistry. If your tooth damage extends beyond the outer enamel layer of the tooth, we are qualified to perform more extensive repairs. They may include a custom dental crown, a root canal or even a dental implant if the tooth is not salvageable. Most minor chips or cracks can be seamlessly repaired using our white filling material. Composite resin is bonded directly to the tooth and provides a quick and easy solution to restore your smile.
If you are delaying your chipped tooth repair due to cost or fear of the dentist, you'll be happy to know that Allen Dentistry can help. Our office offers flexible financing plans, including a dental savers plan for patients without insurance. To ensure you remain comfortable throughout your visit, we also provide special amenities and sedation dentistry.
At Allen Dentistry, we use the most advanced dental technology in the industry to improve your chipped tooth repair experience. However, we never forget the importance of treating the patient behind the smile. We value the relationships we build with each of our patients, both young and old.
Have a chipped tooth that needs attention? For a pleasant experience and natural-looking restoration, call Allen Dentistry today.
Procedures
Childrens Dentistry
Dental Cleanings
Dental Implants
Emergencies
Porcelain Veneers
Restorative Treatment
Same Day Dentistry
Sleep Apnea Treatment
Teeth Whitening
TMJ Treatments
Allen Dentistry Locations
Address
551 W McDermott Dr
Camden
,
Texas
75013
Languages spoken: English
Opening hours
monday:

8:00 AM - 6:00 PM

tuesday:

9:00 AM - 1:00 PM

wednesday:

7:00 AM - 5:00 PM

thursday:

8:00 AM - 5:00 PM

friday:

8:00 AM - 5:00 PM

saturday:

Closed

sunday:

Closed