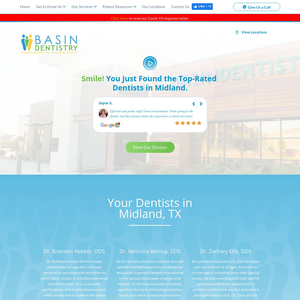 About Basin Dentistry
Your teeth are made of the strongest substance in your whole body and meant to last a lifetime. However, this doesn't mean they won't break or crack under excessive pressures or when they've weakened due to decay. At Basin Dentistry, we can restore your chipped tooth back to its original condition. Among our expansive menu of dental services, we offer chipped tooth repair options that rebuild the strength, aesthetics and health of a fractured tooth. Best of all, we do it in the timely manner you deserve. Basin Dentistry offers emergency care as well as same day dentistry for families in Midland.
Regardless of how it happened, a chipped tooth is evidence that the outer protective layer of your tooth was damaged, also called the tooth enamel. With the inner tooth layers exposed, the tooth is vulnerable to infection and decay. Some patients may find that their chipped tooth is especially sensitive to hot and cold. Depending on the severity of the tooth break, one of our dentists will suggest an effective solution. Chipped tooth repairs may include composite bonding, inlays, onlays or custom crowns. You can trust Basin Dentistry for excellence in general, restorative and cosmetic dentistry. We can even place a dental implant if you have a tooth that needs extraction.
While chipped tooth repair probably doesn't excite you, Basin Dentistry can make the experience as pleasant as possible. In fact, we are known for our emphasis on comfort dentistry. We offer an array of extended services throughout our office. This includes a coffee bar, internet bar, warm scented towels and blankets for adults as well as a theatre room and play room for kids. For those who want to enhance their dental care experience, we also offer free paraffin hand dips with a luxurious massage chairs. At Basin Dentistry, dental care never felt so good!
Need to see a trusted Midland dentist for your chipped tooth? Turn to Basin Dentistry. We have a team of qualified dental professionals who are ready to serve you. Our staff even includes a pediatric dental specialist, so we can treat your child's tooth damage too.
Procedures
Cracked Tooth Repair
Dental Implants
Dentures
Esthetic Dentistry
Gum Disease
Halitosis Treatment
Invisalign
Restorative Treatment
Root Canal Therapy
TMD Therapy
Basin Dentistry Locations
Address
5016 Briarwood Ave.
Midland
,
Texas
79707
Languages spoken: English
Opening hours
monday:

7:00 AM - 6:00 PM

tuesday:

7:00 AM - 6:00 PM

wednesday:

7:00 AM - 6:00 PM

thursday:

7:00 AM - 6:00 PM

friday:

7:00 AM - 6:00 PM

saturday:

Closed

sunday:

Closed
Address
1321 N. Main St.
Andrews
,
Texas
79714
Languages spoken: English
Opening hours
monday:

8:00 AM - 6:00 PM

tuesday:

8:00 AM - 6:00 PM

wednesday:

8:00 AM - 6:00 PM

thursday:

8:00 AM - 6:00 PM

friday:

8:00 AM - 6:00 PM

saturday:

Closed

sunday:

Closed