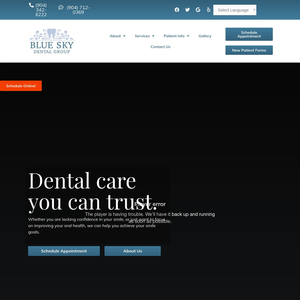 About Blue Sky Dental Group
Regardless of your age or stage of life, tooth damage is never a welcome event. A chipped tooth not only jeopardizes the appearance of your smile, but it can also cause discomfort when talking or eating. At Blue Sky Dental Group, we can fix your chipped, cracked or broken tooth with the excellence you deserve. We know that the function, health and aesthetics of your smile are at risk when your tooth is damaged. Whether you suffered a bad fall or bit down on something too hard, you can trust our Jacksonville dental team for superior results in chipped tooth repair.
When it comes to restoring your smile, we pursue the highest level of care. At Blue Sky Dental Group, we are equipped with modern amenities that boost patient comfort at every step. We know that repairing a tooth fracture may bring heightened anxiety and unexpected expense. Rest assured that we will do everything we can to reduce your stress. Not only will we repair your tooth using the highest quality materials in dentistry, but we will pamper you with Netflix, scented towels, blankets and other relaxing services while you are here. We also offer sedation dentistry and can provide a flexible payment option to alleviate your budget concerns.
There are many types of tooth fractures, from minor chips and cracks to large breaks and more. Depending on the severity of your damage, we may recommend tooth-colored bonding, a dental crown or even a dental implant if the tooth cannot be saved. Our dental team is led by a talented dentist who is trained in multiple facets of dentistry, including general, cosmetic and restorative care. As a recipient of the Academy of General Dentistry's Fellowship Award, Dr. Jonas Ashbaugh is included in the 7% of all active dentists who have gone above and beyond the basic requirements to care for their patients' oral health. When it comes to a chipped tooth or other urgent dental matter, your smile is in good hands.
Do you have a chipped tooth in Jacksonville that needs prompt repair? Call Blue Sky Dental Group. We are proud to be your trusted dental provider for all types of smile concerns. For your convenience, we offer same day dentistry and extended appointment hours.
Procedures
Bonding
Composite Fillings
Cracked Tooth Repair
Dental Bridges
Gum Disease
Hygiene Services
Orthodontics
Periodontal therapy
Restorative Treatment
Root Canal Therapy
Blue Sky Dental Group Locations
Address
14866 Old St. Augustine Rd, Suite 111
Jacksonville
,
Florida
32258
Languages spoken: English, Spanish
Opening hours
monday:

8:00 AM - 5:00 PM

tuesday:

10:00 AM - 7:00 PM

wednesday:

8:00 AM - 5:00 PM

thursday:

8:00 AM - 5:00 PM

friday:

8:00 AM - 5:00 PM

saturday:

Closed

sunday:

Closed