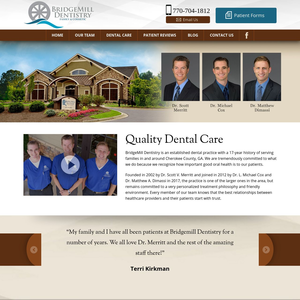 About BridgeMill Dentistry
When it comes to top quality dental healthcare near Kennesaw, you can turn to the experienced dentists and staff from BridgeMill Dentistry. Our family dental practice is located in Canton and proudly serves the community of Kennesaw with complete dental healthcare including preventive, general, restorative and cosmetic dentistry. We also offer dental implant restorations as well as non-surgical treatments for periodontal disease. Our comprehensive dental practice serves children and adults of all ages. We want to be the dental practice you trust to meet the dental needs of your entire family.
Dentist in Kennesaw GA
BridgeMill Dentistry near Kennesaw GA features two experienced dentists Scott V. Merritt, D.M.D. and L. Michael Cox, D.M.D., and a dedicated team of dental support professionals. Our dentists and staff are trained to provide you with the highest quality preventive, reconstructive and cosmetic dentistry. We deliver this high level of care in an atmosphere that is relaxing and enjoyable for our patients. Whether you are in need of routine dental care or major dental reconstruction, you can be confident in the dental care you will receive at our Kennesaw dental practice. Your health, comfort and convenience are our greatest priorities and we are deeply committed to your long-term oral health.
At BridgeMill Dentistry, we maintain a state-of-the-art dental facility that is equipped with the latest dental technology and equipment. As part of an ongoing commitment to improving patient care, we utilize a low-radiation digital X-ray system as well as a chartless digital records system. Our dental practice uses only the highest quality materials and proven dental techniques to achieve amazing results for our patients.
If you live in Kennesaw and are looking for a dental practice you can call home, we invite you to visit BridgeMill Dentistry and to meet our friendly dentists and staff. Our practice is currently accepting new patients and we accept many dental insurance plans as well as credit card payments. Please call us to schedule your appointment. We look forward to helping you achieve and maintain optimal oral health.
BridgeMill Dentistry provides complete dental care for families and residents in the Canton area with a focus on patient comfort in a warm, caring environment.
Procedures
Bonding
Cleanings Checkups
Dental Bridges
Dental Crowns
Dental Restoration
Fluoride Treatment
Implant Restorations
Sealants
Teeth Whitening
Veneers
BridgeMill Dentistry Locations
Address
3682 Sixes Rd.
Canton
,
Georgia
30114
Languages spoken: English
Opening hours
monday:

8:00 AM - 5:00 PM

tuesday:

8:00 AM - 6:00 PM

wednesday:

8:00 AM - 5:00 PM

thursday:

8:00 AM - 5:00 PM

friday:

8:00 AM - 12:00 PM

saturday:

Closed

sunday:

Closed