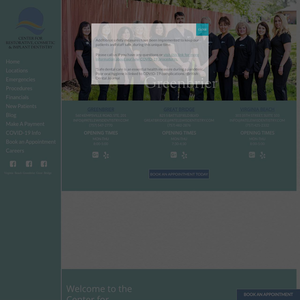 About Center for Restorative, Cosmetic & Implant Dentistry
If you need an experienced Chesapeake dentist who offers superior results in chipped tooth repair, turn to the Center for Restorative, Cosmetic & Implant Dentistry. We have highly qualified dentists who serve Chesapeake families from two convenient office locations. Our team believes in providing state-of-the-art dentistry with a personalized and gentle approach. While we are known for excellence in chipped tooth repair, our dentists are trained to offer a full menu of services in general, restorative and cosmetic dentistry. Whatever your smile needs to look or feel better, we can handle it.
A chipped tooth is more than just a threat to your smile's appearance. Any crack or fracture to a tooth leaves it more vulnerable to decay, infection and other dental problems. For some, a chipped tooth can be quite painful, especially if the sensitive nerves and tissues inside the tooth have been exposed. Therefore, it is important that you seek treatment sooner rather than later if you've suffered tooth damage. We can restore the tooth to its most natural appearance and strongest form.
At the Center for Restorative, Cosmetic & Implant Dentistry, we offer multiple services for chipped teeth. Depending on the extent of the damage, we may suggest dental bonding, a dental onlay or filling or a full custom crown. Regardless of what your smile needs, you can trust that we will create a comfortable and convenient experience. Our nearby offices in Greenbrier and Great Bridge offer same day treatments and emergency dental care to ensure we are here when you need us most.
Call today to learn more about chipped tooth repair from Chesapeake's finest. You'll find that our office environment is clean and modern, and our staff is welcoming and friendly. We treat patients with the level of care that we would extend to our own family members.
Procedures
Bonding
Childrens Dentistry
Chipped Tooth Repair
Dental Bridges
Dental Restoration
Invisalign
Oral Cancer Screening
Teeth Whitening
Tooth Extractions
Center for Restorative, Cosmetic & Implant Dentistry Locations
Address
560 Kempsville Rd
Chesapeake
,
Virginia
23320
Opening hours
monday:

8:00 AM - 5:00 PM

tuesday:

8:00 AM - 5:00 PM

wednesday:

8:00 AM - 5:00 PM

thursday:

8:00 AM - 5:00 PM

friday:

Closed

saturday:

Closed

sunday:

Closed
Address
825 S BATTLEFIELD BLVD
Chesapeake
,
Virginia
23322
Opening hours
monday:

7:30 AM - 4:30 PM

tuesday:

7:30 AM - 4:30 PM

wednesday:

7:30 AM - 4:30 PM

thursday:

7:30 AM - 4:30 PM

friday:

Closed

saturday:

Closed

sunday:

Closed
Address
303 35TH STREET, SUITE 103
Virginia Beach
,
Virginia
23451
Opening hours
monday:

8:00 AM - 5:00 PM

tuesday:

8:00 AM - 5:00 PM

wednesday:

8:00 AM - 5:00 PM

thursday:

8:00 AM - 5:00 PM

friday:

Closed

saturday:

Closed

sunday:

Closed