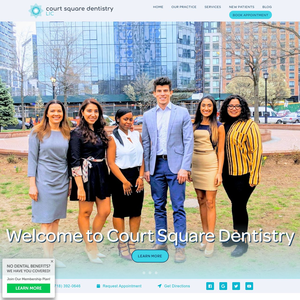 About Court Square Dentistry
If you need to visit a dentist for chipped tooth repair in Long Island City, you can expect a pleasant and rewarding experience at Court Square Dentistry. In fact, we've redefined the way patients experience dental care. Whether you are coming in to restore tooth damage, protect your oral health or enhance your smile appearance, our modern dental practice is ready to address your needs in the most comfortable manner possible. We consider it a privilege to care for your smile, and we provide prompt treatment for unexpected concerns like chipped or broken teeth.
At Court Square Dentistry, we've gone above and beyond to reduce or eliminate your discomfort in the dental chair. Not only do we provide patient amenities such as complimentary beverages, Netflix and warm blankets, but we also use the latest comfort technology available. For example, if you need a local anesthetic during your dental filling or custom crown service, we will use our advanced DentalVibe technology to take away the pain of the needle. To create an even more relaxing experience, we can also administer sedation dentistry. We are confident that we can make your chipped tooth repair a stress-free visit.
Depending on the severity and location of your tooth fracture, we may offer bonding, a crown or other restorative services. To boost your convenience, Court Square Dentistry is able to deliver top quality custom crowns in just one visit. Our same day technology is a valued advantage of choosing our practice for restorative dentistry. We know that when it comes to smile damage, time is of the essence. We can help you regain an attractive, healthy and functional smile in the timely manner you deserve.
To learn more about our unique dental care experience at Court Square Dentistry, please call our Long Island City office today. We proudly offer a full menu of services in general, restorative and cosmetic dentistry. We even offer treatments in orthodontics and pediatrics. If you or a member of your family is suffering from a chipped tooth, we can likely see you today.
Procedures
Cleanings Checkups
Composite Fillings
Dental Crowns
Dental Implants
Dentures Partials
Extractions
Orthodontics
Restorative Treatment
Root Canal Therapy
Same Day Dentistry
Court Square Dentistry Locations
Address
24-24 Jackson Ave
Long Island City
,
New York
11101
Languages spoken: English
Opening hours
monday:

10:00 AM - 6:00 PM

tuesday:

10:00 AM - 5:00 PM

wednesday:

Closed

thursday:

10:00 AM - 5:00 PM

friday:

10:00 AM - 4:00 PM

saturday:

Closed

sunday:

Closed