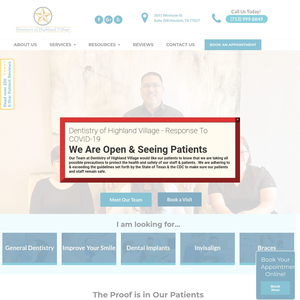 About Dentistry of Highland Village
Need chipped tooth repair in Houston? At Dentistry of Highland Village, we have a talented dentist who is ready to handle your tooth damage today. We realize that even the most cared for teeth can suffer harm. Whether you bit down on something too hard during dinner or had a traumatic fall on the playing field, Dr. Katya Shevchenko is equipped to restore your smile. She is an experienced and gentle dentist who stays at the forefront of modern dentistry. When it comes to your chipped tooth, you can expect natural-looking and sustainable results.
If you've encountered a chipped or cracked tooth, your appearance isn't the only element of concern. Your oral health is at risk when part of your tooth has lost or weakened structure. Not only does the tooth lose strength, but it may also be more vulnerable to bacteria invasion and plaque buildup. To save your looks and your health, choose chipped tooth repair from Dr. Shevchenko sooner rather than later.
At Dentistry of Highland Village, we offer an expansive menu of services, including the following cosmetic and restorative treatments that can effectively address a damaged tooth:
Dental Bonding
Cosmetic Crowns
Veneers and Lumineers
When choosing our Houston practice for your dental care needs, you will be met with superior, patient-centered care every time. Our office proudly adopts the latest techniques and technologies in the industry, which makes your dental services more effective, more comfortable and safer. When it comes to restorative treatments for your smile, we offer a "Last Time You Pay" warranty. Lastly, all of our restorations, such as custom crowns, bridges, inlays and onlays come from a high-quality USA lab for your added assurance.
Ready to schedule your chipped tooth repair at Dentistry of Highland Village? Don't worry; we never let your finances stand in the way of your dental care. We offer in-house savings plans, insurance acceptance and flexible financing options for your convenience. Call today to get your smile restored by Houston's most trusted dentist.
Procedures
Braces
Dental Bridges
Dental Crowns
Dental Implants
Emergencies
Invisalign
Root Canal Therapy
Teeth Whitening
Veneers
Wisdom Teeth Removal
Dentistry of Highland Village Locations
Address
3651 Weslayan St. Suite 208
Houston
,
Texas
77027
Languages spoken: English
Opening hours
monday:

7:00 AM - 3:00 PM

tuesday:

7:00 AM - 3:00 PM

wednesday:

7:00 AM - 5:00 PM

thursday:

Closed

friday:

7:00 AM - 5:00 PM

saturday:

7:00 AM - 3:00 PM

sunday:

Closed