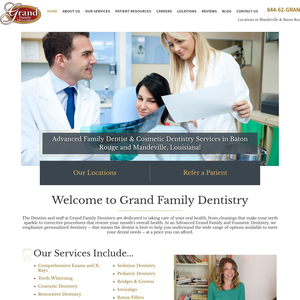 About Grand Family Dentistry
When it comes to replacing missing teeth, dental implants are the most unrivaled solution in restorative dentistry. In fact, dental implants have the remarkable ability to mimic your natural teeth in function, feel and appearance better than any other option available. At Grand Family Dentistry, we are proud to have a team of skilled implants dentists in Mandeville and Baton Rouge who can restore your smile back to its healthiest and most confident condition after missing teeth.
Dental implants are highly versatile, as they can be used to replace a single missing tooth or secure a full arch of prosthetic teeth. Our dental practice even offers same day dental implants, a service that is on the cutting-edge of implants dentistry. Regardless of how many implants you may need, we promise to provide a permanent solution so that you can avoid the drawbacks of missing teeth, which can include shifting adjacent teeth, bone loss and other setbacks to your health and well-being.
Excellence in Implant Dentistry
Dental implants involve the surgical placement of a titanium post into your jawbone. As the implant heals over time, it fuses to the surrounding bone and acts as an artificial tooth root for the dental restoration that will be placed on top. This is a key distinction of dental implants compared to other restorative dentistry options. Be anchoring the crown, bridge or denture into your jawbone, patients gain unrivaled security and confidence in their prosthetic teeth. This is a welcome advantage for patients who suffer from ill-fitting dentures or avoid certain foods because their dentures refuse stay in place.
Not only will your dental implants provide better and more long-term stability, but they can also help you avoid the bone loss that occurs after missing teeth. In fact, dental implants are the only way to provide natural stimulation to the underlying jawbone so that it does not atrophy or resorb into the body over time. In doing so, patients can retain their jawbone density and a more youthful facial shape in result.
Ready to learn if you qualify for dental implants at Grand Family Dentistry? Book your appointment for a detailed evaluation. In general, patients should be in good overall health and have enough healthy jawbone to support a dental implant. We'd love the opportunity to help you regain your smile confidence after missing teeth!
Procedures
Childrens Dentistry
Cleanings Checkups
Dentures
Orthodontics
Root Canal Therapy
Same Day Dentistry
Sedation Dentistry
Teeth Whitening
Veneers
Grand Family Dentistry Locations
Address
5422 Jones Creek Rd
Baton Rouge
,
Louisiana
70817
Opening hours
monday:

9:00 AM - 6:00 PM

tuesday:

8:00 AM - 5:00 PM

wednesday:

8:00 AM - 5:00 PM

thursday:

8:00 AM - 5:00 PM

friday:

8:00 AM - 5:00 PM

saturday:

Closed

sunday:

Closed
Address
2083 3rd St
Mandeville
,
Louisiana
70471
Opening hours
monday:

9:00 AM - 6:00 PM

tuesday:

8:00 AM - 5:00 PM

wednesday:

8:00 AM - 5:00 PM

thursday:

8:00 AM - 5:00 PM

friday:

8:00 AM - 5:00 PM

saturday:

Closed

sunday:

Closed
Address
535 N Causeway Blvd
Mandeville
,
Louisiana
70448
Opening hours
monday:

9:00 AM - 6:00 PM

tuesday:

8:00 AM - 5:00 PM

wednesday:

8:00 AM - 5:00 PM

thursday:

8:00 AM - 5:00 PM

friday:

8:00 AM - 5:00 PM

saturday:

Closed

sunday:

Closed