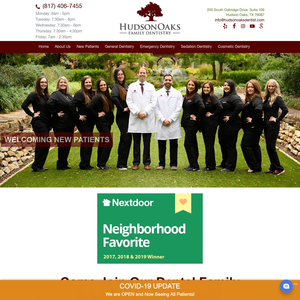 About Hudson Oaks Family Dentistry
Are you suffering from a chipped or cracked tooth? Any damage to your smile should be considered as more than just a cosmetic issue. When a tooth is chipped, it means the protective enamel layer of your tooth has been compromised and your tooth is more vulnerable to decay, infection or other serious concerns. At Hudson Oaks Family Dentistry, we take pride in our ability to offer excellent repairs for chipped teeth. You'll be treated in an office environment that feels like home and cared for like a member of our own family. Hudson Oaks Family Dentistry serves both children and adults with full service dentistry, which means we can handle general, restorative, cosmetic and emergency dental care in one convenient place.
Dr. J.C. Reagan leads our practice as a gentle and experienced family dentist. Dr. Reagan understands how to make each patient feel comfortable and relaxed during tooth repair services. If you are especially anxious about your unexpected dental visit, we are happy to offer sedation dentistry to help you relax. In addition, you'll find that we take the time to carefully explain your treatment options and keep you informed about what to expect during and after your service.
At Hudson Oaks Family Dentistry, your smile can be restored to its healthiest and most attractive condition after a dental mishap. Whether you've chipped your back molar during dinner or your child's front teeth collided with the monkey bars, we always aim to fix your chipped tooth in the timely manner you deserve.
The type of treatment your tooth requires will be directly based on the location and severity of the damage. Dental bonding is used as a simple and cost-effective treatment for minor cracks and chips. For more extensive damage, a dental crown can be used. In cases of severe pain, you may need root canal therapy to eliminate an infection within your tooth. Regardless of what needs to be done, you can trust Hudson Oaks Family Dentistry for a comfortable service and unrivaled results. We care about the current and future state of your smile, and our team uses the latest technology and technique to ensure you get the very best care available in modern dentistry.
To schedule your chipped tooth repair in Hudson Oaks, TX, please give us a call. We offer same day dentistry, flexible payment options and other valued opportunities to alleviate your stress.
Procedures
Cleanings Checkups
Cracked Tooth Repair
Crowns
Gum Disease
Porcelain Veneers
Same Day Dentistry
Sedation Dentistry
Sleep Apnea Treatment
TMD Therapy
Tooth Extractions
Hudson Oaks Family Dentistry Locations
Address
200 South Oakridge Drive, Suite 106
Hudson Oaks
,
Texas
76087
Languages spoken: English
Opening hours
monday:

8:00 AM - 5:00 PM

tuesday:

7:30 AM - 4:30 PM

wednesday:

7:30 AM - 6:00 PM

thursday:

7:30 AM - 4:30 PM

friday:

7:00 AM - 2:30 PM

saturday:

Closed

sunday:

Closed