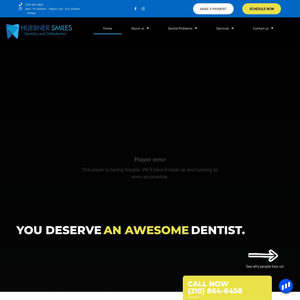 About Huebner Smiles Dentistry
Do you need the best treatment for chipped tooth repair in San Antonio? Turn to Huebner Smiles Dentistry and Orthodontics for your dental needs. We are proud to deliver the highest standard of care in a comfortable and rewarding environment. To ensure we handle your chipped tooth or other smile damage the way you deserve, you'll find that our office is able to offer a full menu of services in general, cosmetic and restorative treatment. We are also open seven days a week, and our practice uses the latest, most streamlined dental technology in the industry.
Not only do we provide fast and top ranked dental treatments, but we do it in a manner that boosts patient comfort and convenience. Our office is stocked with attractive amenities such as Netflix, Hulu, a beverage bar and even complimentary Uber rides for qualifying services. When choosing us for your chipped tooth repair, you'll forget you are at the dentist. Most patients feel like they've just been to the spa!
Huebner Smiles proudly pursues the most proven and innovative dental treatments in the industry. When it comes to repairing moderate or severe tooth damage, our dentists offer monolithic crowns using either IPS e.max or BruxZir crowns. These crowns use unrivaled materials that provide maximum durability as well as beautiful aesthetics. For minor cracks or chips, we can likely use dental bonding with tooth-colored composite resin. Whatever your smile needs to regain its original or improved condition, we can handle it at Huebner Smiles.
Ready to fix your chipped tooth with San Antonio's most trusted and experienced dentist, call Huebner Smiles Dentistry and Orthodontics today. We realize that every smile is unique. Therefore, you'll find personalized treatment plans that accommodate your specific clinical needs as well as your budget concerns and personal preferences.
Procedures
Cleanings Checkups
Composite Fillings
Cracked Tooth Repair
Crowns
Dental Bridges
Emergencies
Orthodontics
Porcelain Veneers
Restorative Treatment
Teeth Whitening
Huebner Smiles Dentistry Locations
Address
12055 Vance Jackson Road, Suite 103
San Antonio
,
Texas
78230
Languages spoken: English
Opening hours
monday:

7:00 AM - 8:00 PM

tuesday:

7:00 AM - 8:00 PM

wednesday:

7:00 AM - 8:00 PM

thursday:

7:00 AM - 8:00 PM

friday:

7:00 AM - 8:00 PM

saturday:

8:00 AM - 5:00 PM

sunday:

Closed