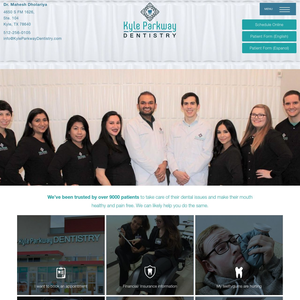 About Kyle Parkway Dentistry
Kyle Parkway Dentistry is proud to offer a full range of restorative dentistry options to patients of all ages. Whether you've lost a tooth due to severe decay or chipped a tooth during an accidental injury, we can help. In fact, Dr. Mahesh Dholariya is known for remarkable results in chipped tooth repair. We understand how to repair the structural integrity of a fractured tooth while also restoring its ideal aesthetics. Our expertise in general, cosmetic and restorative dentistry, along with our superior patient care, makes us a leading choice for tooth damage repair in Kyle, TX.
Regardless of whether you cracked a molar or chipped a front tooth, it needs to be addressed by a dentist. If a fractured tooth is left untreated, it can lead to pain, sensitivity, decay and infection. Dr. Dholariya is able to provide prompt care for those that need chipped tooth repair or other urgent dental treatments. Not only do we reserve time in our daily schedule to handle unexpected dental concerns, but we also have extended weekday hours and Saturday appointments available.
At Kyle Parkway Dentistry, we realize that patients may be especially anxious or stressed when visiting us for chipped tooth repair. To calm your nerves, we pull out all the stops in comfort dentistry, and we utilize the most advanced, minimally invasive technology in the industry. Patients of all ages can take advantage of our sedation dentistry options as well as our unique DentalVibe device, which eliminates the pain from injections.
What does your chipped tooth need to look and feel like it used to? Depending on the size and location of the damage, we can offer tooth-colored bonding, custom crowns or other treatments that restore your tooth back to its original condition. Don't let a cracked, chipped or broken tooth ruin your day, we can fix it at Kyle Parkway Dentistry. Schedule your appointment today. We see children, teens, adults and grandparents.
Procedures
Cleanings Checkups
Dental Crowns
Dental Implants
Fluoride Treatment
Periodontal treatment
Restorative Treatment
Root Canal Therapy
Teeth Whitening
Tooth Colored Fillings
Veneers
Kyle Parkway Dentistry Locations
Address
4650 S FM 1626, Ste. 104
Kyle
,
Texas
78640
Languages spoken: English, Spanish
Opening hours
monday:

8:00 AM - 7:00 PM

tuesday:

8:00 AM - 7:00 PM

wednesday:

Closed

thursday:

2:30 PM - 7:00 PM

friday:

8:00 AM - 5:00 PM

saturday:

Closed

sunday:

Closed