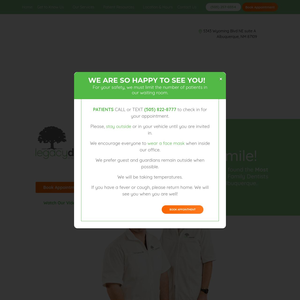 About Legacy Dental
At Legacy Dental, we know how to take care of your smile. Beyond our preventive services to protect your oral health, we also offer a number of restorative and cosmetic dental services to ensure your smile is comfortable, functional and beautiful. When it comes to unexpected dental concerns, we are proud to be Albuquerque's top choice for emergency dental care. A common service we offer is chipped tooth repair, which can involve correcting minor or extensive damage to your smile.
A broken or chipped tooth is more than an aesthetic concern. When the enamel of a tooth is compromised, it is more susceptible to decay and infection. In addition, the inner nerves of the tooth can be affected, leading to painful sensitivity when eating and drinking. If you have damaged a tooth, we want to restore it as soon as possible. Dr. Stewart Anderson and Dr. Derek Lines, the family dentists at our Albuquerque office, are exceptionally qualified to repair the health and appearance of your smile. We offer tooth-colored dental fillings (bonding) as well as custom crowns, dental implants and veneers. Based on your clinical needs and personal budget, we can tailor a solution just for you.
Whether you are getting a crown for your chipped tooth or planning your smile makeover in cosmetic dentistry, you can expect a comfortable and streamlined visit at Legacy Dental. Our office is equipped with state-of-the-art technology as well as modern amenities to keep you relaxed. To protect your wallet, please explore our financing options for general, restorative or cosmetic dental care in Albuquerque.
Does a member of your family need chipped tooth repair? Call our office today. We are open on weekdays and one Saturday per month.
Procedures
Chipped Tooth Repair
Dental Cleanings
Dental Implants
Dentures
Emergencies
Gum Disease
Sedation Dentistry
Teeth Whitening
Veneers
Wisdom Teeth Removal
Legacy Dental Locations
Address
5343 Wyoming Blvd NE, Suite A
Gary
,
New Mexico
87109
Languages spoken: English
Opening hours
monday:

8:00 AM - 2:00 PM

tuesday:

7:00 AM - 7:00 PM

wednesday:

8:00 AM - 5:00 PM

thursday:

7:00 AM - 7:00 PM

friday:

8:00 AM - 2:00 PM

saturday:

Closed

sunday:

Closed