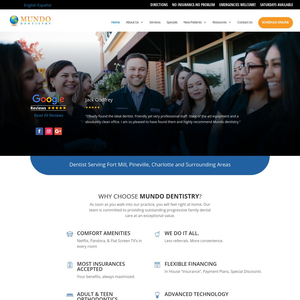 About Mundo Dentistry
If you have a chipped, cracked or broken tooth, there's no reason to settle for anything less than excellence when it comes to repair. Mundo Dentistry is where modern dentistry meets personalized care. Our state-of-the-art dental practice in Fort Mill offers a full range of advanced dental services with valued attention to patient comfort and convenience. Our dental services include same day solutions for teeth that are chipped or otherwise damaged.
Fracturing a tooth is never a welcome experience. It can happen in a matter of seconds and causes significant panic when it threatens your smile appearance. However, a chipped tooth is more than just a cosmetic concern. At Mundo Dentistry, we realize the importance of restoring both the health and beauty of your smile after damage. Our dentists perform a careful examination of your affected tooth in order to determine which treatment regime is best. Most minor areas of tooth damage can be seamlessly repaired with composite resin, or tooth-colored bonding material.
For patients that have a large chip or a crack that has penetrated into the inner layers of the tooth, more extensive treatment may be required. Fortunately, Mundo Dentistry is known for offering the most advanced dental restoration technology available. Using the CEREC system, we can provide same day custom crowns so that you never have to wait multiple days for your chipped tooth repair. We take your dental care seriously, and we are prepared to offer our patients the best that modern dentistry has to offer.
Mundo Dentistry is uniquely equipped to treat all types of patients, including kids, adults and Spanish-speaking patients. For individuals with special needs or physical limitations, we also offer a low-radiation portable imaging system. Whether it is our cutting-edge technology, our comfort amenities or our flexible financing plans, we do our best to remove any obstacles that may prevent patients from a positive dental care experience.
Do you want high quality chipped tooth repair in Fort Mill? Call Mundo Dentistry today. You can expect to be treated with compassionate and knowledgeable care every time, whether it is an unexpected dental visit or an appointment scheduled months in advance.
Procedures
Childrens Dentistry
Cleanings Checkups
Dental Implants
Emergencies
Esthetic Dentistry
Fluoride Treatment
Orthodontics
Periodontal treatment
Restorative Treatment
Wisdom Teeth Removal
Mundo Dentistry Locations
Address
3463 US-21, #101
Fort Mill
,
South Carolina
29715
Languages spoken: English, Spanish
Opening hours
monday:

8:00 AM - 6:00 PM

tuesday:

7:00 AM - 6:00 PM

wednesday:

7:00 AM - 6:00 PM

thursday:

7:00 AM - 6:00 PM

friday:

7:00 AM - 2:00 PM

saturday:

8:00 AM - 2:00 PM

sunday:

Closed