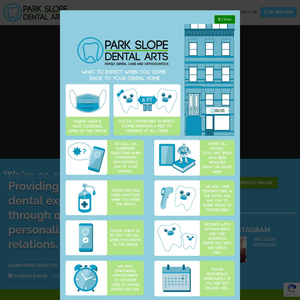 About Park Slope Dental Arts
Did you chip a tooth? Your teeth are composed of the hardest substance in the human body, but they can still break down or incur damage from time to time. A chipped tooth can be a threat to your self-confidence as well as your oral health. Therefore, you can rely on Park Slope Dental Arts for prompt and professional attention to your tooth fracture. We understand how disruptive it can be to deal with a chipped tooth. Our Brooklyn office offers flexible scheduling as well as same day dentistry to ensure your smile is restored in the timely manner you deserve.
When a tooth suffers harm, it is important to let a dentist evaluate the damage. Your tooth may be in danger even if you are not experiencing pain. When bacteria are allowed to penetrate the inner chamber of a tooth, the vitality of the tooth can be threatened and lead to worsening dental problems. At Park Slope Dental Arts, we are equipped to repair all types of tooth damage. This includes teeth that need simple dental bonding as well as those that need root canal therapy or a custom crown. You can trust that our dental restorations are long-lasting and natural in appearance, allowing your chipped tooth repair to be indistinguishable from the rest of your smile.
Park Slope Dental Arts treats your entire family, from young children to aging adults. We have a general dentist, orthodontist and pediatric dentist on staff to ensure we can properly address dental concerns at every stage of life. Our dentists value the importance of delivering personalized care in a comfortable environment. Unlike your potential past dental experience, we create dental visits that are relaxing and rewarding at every step.
If you have chipped a tooth unexpectedly, don't delay treatment. Park Slope Dental Arts welcomes the opportunity to repair your tooth fracture as soon as possible. Every patient deserves a healthy and beautiful smile!
Procedures
Childrens Dentistry
Dental Implants
Gum Disease
Hygiene Services
Nightguards
Oral Cancer Screening
Orthodontics
TMJ Treatments
Tooth Extractions
Veneers
Park Slope Dental Arts Locations
Address
506 3rd St.
New York City
,
New York
11215
Languages spoken: English
Opening hours
monday:

9:00 AM - 8:00 PM

tuesday:

Closed

wednesday:

9:00 AM - 8:00 PM

thursday:

Closed

friday:

9:00 AM - 8:00 PM

saturday:

9:00 AM - 3:00 PM

sunday:

Closed