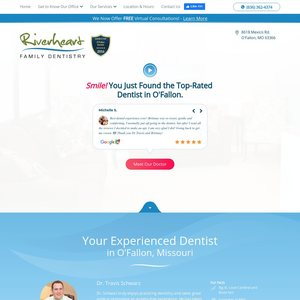 About Riverheart Family Dentistry
While preventive dental visits and diligent oral hygiene can protect your smile from most problems, it is not always possible to avoid tooth damage. If you have a chipped or cracked tooth and live in the O'Fallon area, trust Riverheart Family Dentistry for excellent repairs. Our practice is equipped to offer an expansive menu of dental services, ensuring your entire family can get their smile needs addressed in one convenient place.
Dr. Travis Schwarz is a skilled and compassionate dentist who realizes the importance of fixing a chipped tooth promptly and effectively. Not only can a chipped tooth jeopardize your smile aesthetics, but it can also affect your bite as well as put the health of the tooth in danger. Even a minor crack or chip in your tooth structure can make you more susceptible decay and infection, which may cause sensitivity, pain and discoloration. To restore the health and appearance of your chipped tooth in a timely manner, turn to Riverheart Family Dentistry. We offer same day dentistry, extended office hours and emergency dental care to accommodate your needs.
Our top quality options for chipped tooth repair include tooth-colored dental bonding, custom crowns, porcelain veneers, root canal therapy and more. Your treatment will depend on the severity of your tooth damage and which tooth is affected. You can trust that Riverheart Family Dentistry offers cutting-edge dental technology to streamline your visit and modern amenities to boost your comfort. We go above and beyond to make your dental visit as positive and rewarding as possible, even when it comes to fixing a cracked or chipped tooth.
To learn more about our general, restorative or cosmetic dental services in O'Fallon, please call Riverheart Family Dentistry today. We promise your smile is in good hands.
Procedures
Cleanings Checkups
Composite Fillings
Cracked Tooth Repair
Dental Bridges
Emergencies
Gum Disease
Halitosis Treatment
Periodontal therapy
Restorative Treatment
Tooth Extractions
Riverheart Family Dentistry Locations
Address
8618 Mexico Rd
O'Fallon
,
Missouri
63366
Languages spoken: English
Opening hours
monday:

Closed

tuesday:

7:00 AM - 7:00 PM

wednesday:

7:00 AM - 7:00 PM

thursday:

7:00 AM - 7:00 PM

friday:

Closed

saturday:

Closed

sunday:

Closed