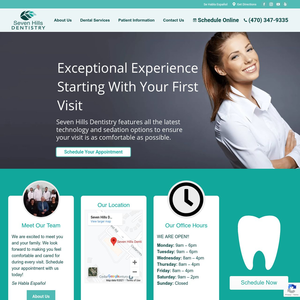 About Seven Hills Family Dentistry
Your teeth were designed to last a lifetime. Unfortunately, there are times when damage or injury threatens their longevity. A tooth can become cracked or chipped from a variety of factors. Most tooth damage occurs at a time you least expect it, such as during a meal or a sudden fall. Regardless of what caused your tooth fracture, you can trust Seven Hills Family Dentistry to perform top quality repair. Addressing your chipped tooth promptly and properly can be critical in terms of saving your tooth.
Dr. Mehran "Ron" Hassanzadeh leads our Dallas practice as a talented and experienced dentist. He is trained to perform a full range of dental services, including preventive care, restorative treatments, cosmetic services and orthodontics. At Seven Hills Family Dentistry, there is not a dental concern we can't handle. For situations such as chipped teeth, we understand that time is of the essence. Therefore, we proudly offer same day dentistry as well as evening hours and Saturday appointments to ensure we are available when our patients need us most.
A chipped tooth can jeopardize your self-esteem, challenge your speech or chewing habits and pose a threat to your oral health. If the damage is large or extends to the inner portion of your tooth, you may experience significant discomfort or sensitivity. While minor tooth fractures can be addressed with our tooth-colored bonding, more severe chips may need a dental crown, root canal therapy or other restorative treatment to ensure the tooth regains optimal strength and health.
At Seven Hills Family Dentistry, you can expect a comfortable experience and natural-looking results. Whether you received dental bonding or a full custom crown, your repair will be carried out with advanced techniques that promote top quality results while minimizing your discomfort at every step.
Don't suffer from a chipped tooth any longer, call Seven Hills Family Dentistry today. We are the practice Paulding County trusts for complete family dental care.
Procedures
Childrens Dentistry
Cleanings Checkups
Oral Cancer Screening
Orthodontics
Porcelain Veneers
Root Canal Therapy
Sealants
Teeth Whitening
Tooth Extractions
Seven Hills Family Dentistry Locations
Address
1305 Cedarcrest Rd. Ste 115
Dallas
,
Georgia
30132
Languages spoken: English, Spanish
Opening hours
monday:

10:00 AM - 7:00 PM

tuesday:

10:00 AM - 7:00 PM

wednesday:

Closed

thursday:

7:00 AM - 4:00 PM

friday:

7:00 AM - 2:00 PM

saturday:

Closed

sunday:

Closed