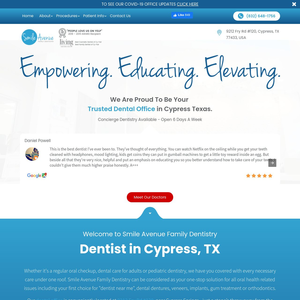 About Smile Avenue Family Dentistry
There are times when your dental issues just can't wait. A chipped tooth is a perfect example. Regardless of whether your chipped tooth is compromising the look of your smile, it can certainly pose a threat your smile health. At Smile Avenue Family Dentistry, we have a variety of ways we can restore your teeth after damage. Best of all, we'll do it in a way that maximizes your comfort and convenience at every step.
Dr. Patrick Vuong leads our family dental practice with a commitment to provide high-quality dental care with a personal touch. He is qualified to treat your entire family, from your young toddler to your aging parents and everyone in between. While our office values the importance of preventive dentistry, we realize that there are times in which a tooth injury is unavoidable. Therefore, to ensure we repair your chipped or broken tooth in a timely manner, our office reserves time in our daily schedule to treat dental emergencies.
A chipped tooth can hurt your pride as well as limit your smile comfort. If you have a sensitivity to extreme temperatures or suffer pain when biting down, your chipped tooth is in need of an immediate restoration. While minor chips can be fixed with tooth-colored bonding, a larger break may require a custom dental crown. Rest assured that your restoration will look seamless and feel natural.
At Smile Avenue Family Dentistry, we are confident you'll be satisfied with your results as well as your experience. In fact, we go to great lengths to ensure your chipped tooth repair or other type of service is carried out with minimal to no discomfort. Our soothing office amenities and advanced injection technology foster a comfortable visit from start to finish. We'll even help you finance your dental treatments, as we know that your chipped tooth repair was likely an unbudgeted expense.
For trusted tooth repair in a welcoming environment, please call our Cypress office today. We look forward to caring for your teeth with the unrivaled attention you deserve.
Procedures
Cleanings Checkups
Cracked Tooth Repair
Dental Crowns
Dental Implants
Dentures
Gum Disease
Invisalign
Teeth Whitening
TMJ Treatments
Tooth Extractions
Smile Avenue Family Dentistry Locations
Address
9212 Fry Road, Suite 120
Cypress
,
Texas
77433
Languages spoken: English
Opening hours
monday:

7:00 AM - 7:00 PM

tuesday:

7:00 AM - 7:00 PM

wednesday:

7:00 AM - 7:00 PM

thursday:

7:00 AM - 7:00 PM

friday:

7:00 AM - 7:00 PM

saturday:

7:00 AM - 7:00 PM

sunday:

Closed