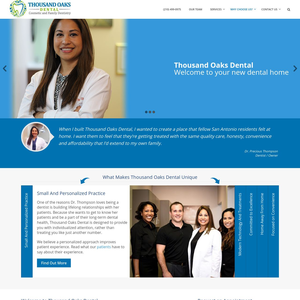 About Thousand Oaks Dental
When it comes to repairing your smile, it is important to choose an experienced and qualified dentist. Ideally, a dentist who specializes in general, restorative and cosmetic dentistry can offer the best solution when your teeth have suffered damage. After all, your smile deserves to be both healthy and beautiful. At Thousand Oaks Dental, you can trust Dr. Precious Thompson to handle your chipped tooth repair with excellence. We practice all facets of dentistry at our San Antonio practice. This means we ensure patients have the services they need to obtain great oral health as well as confident smile aesthetics. If you've experienced any type of tooth damage, let us help.
We offer San Antonio patients a new experience in dentistry. Our practice is built upon patient comfort, honest and open communication and affordability. Regardless of the reason for your visit, you'll find that we go above and beyond to make you feel at home. Not only does our office provide the latest dental technology and a relaxing atmosphere, but we also offer same day appointments, emergency dental care and extended weekday hours. We want to make sure your schedule isn't sacrificed when your smile needs attention. While we are exceptionally equipped to repair chipped or broken teeth in a timely manner, Dr. Thompson also offers a full menu of other dental services. These services range from routine cleanings and gum disease therapy to clear orthodontics and dentures.
When a tooth is damaged, either from accidental injury or severe decay, it needs to be restored. Thousand Oaks Dental offers a variety of ways to fix a chipped, cracked or broken tooth, including tooth-colored bonding, root canals and custom crowns. Depending on the severity of the damage, Dr. Thompson will recommend a solution that helps the tooth regain proper strength and aesthetics. While minor cracks or chips can be solved with a composite resin filling material, more substantial tooth injuries require a dental crown. You can trust that we complete dental crowns with the best that modern dentistry has to offer.
Do you have a tooth that needs attention? Trust your smile to Dr. Thompson of Thousand Oaks Dental. She is driven by a mission to build lifelong relationships with her patients. You can expect personalized care in a small office environment. Schedule your chipped tooth repair or other dental service in San Antonio today!
Procedures
Dental Crowns
Fillings
Oral Cancer Screening
Orthodontics
Porcelain Veneers
Restorative Treatment
Root Canal Therapy
Sleep Apnea Treatment
Teeth Whitening
Tooth Extractions
Thousand Oaks Dental Locations
Address
2235 Thousand Oaks Dr. Suite 120
San Antonio
,
Texas
78232
Languages spoken: English
Opening hours
monday:

9:00 AM - 6:00 PM

tuesday:

8:00 AM - 5:00 PM

wednesday:

8:00 AM - 5:00 PM

thursday:

7:00 AM - 4:00 PM

friday:

7:00 AM - 12:00 PM

saturday:

Closed

sunday:

Closed