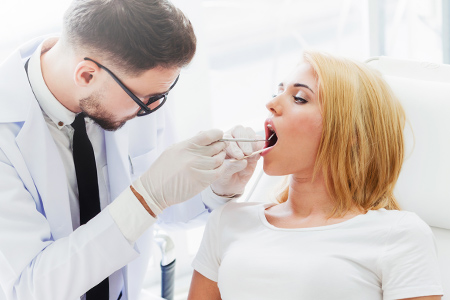 Oral and Maxillofacial Surgeons
If you or a member of your family needs an oral surgeon, it can often be an emergency situation. Oral and maxillofacial surgeons are dental specialists that know and treat a range of injuries and illnesses across four major parts of the body: the neck, face, jaw and mouth. While their most frequently sought-after procedure is tooth extraction, oral surgeons also perform surgery for a wide range of mouth-related accidents, especially when the damage involves deeper oral structures and repairs that a general dentist is not equipped to handle.
Once you realize your need for an oral surgeon, the next step is to choose one that you can trust. This is where we can help. Find Local Dentists is a credible online directory that features top patient-rated oral surgeons and other dental specialists in your area. It's easy to use and offers everything you need to make an informed decision about your oral health. In just a few simple clicks, you can view a list of oral and maxillofacial surgeons in your geographical area and quickly investigate their credentials, experience and reputation. If you need extra reassurance that you are choosing the right provider, feel free to use our direct links to read countless patient reviews left on sites that are not affiliated with the practice.
Find Top Patient-Rated Oral and Maxillofacial Surgeons
Whether your teenager needs wisdom teeth removal or your aging parent needs dental implants, it is imperative that you find an oral surgeon you can trust, and one that other patients have rated highly. That's why our Find Local Dentists directory features top patient-rated oral surgeons near you. In one convenient place, you can be directed to real patient reviews left on some of the most popular outside sources, such as Google, Facebook, Yelp and more.
Don't waste hours of your day trying to sift through the Internet to find a dental specialist that others approve of. That's our job at Find Local. We streamline the process and empower you with the knowledge it takes to help you feel comfortable and confident before you even step foot in your oral surgeon's office.
Easy Access to Reviews About Oral Surgeons
Oral surgeons must complete a demanding level of education beyond that of a general dentist. In fact, oral and maxillofacial surgeons must understand all dentistry, general medicine and many forms of surgery. At Find Local Dentists, we not only provide easy access to these credentials, but we also allow you to take someone else's experience into account. In many cases, hearing what other patients say about a potential oral surgeon is enough to help you feel confident in the decision to make an appointment for yourself.
We know that choosing someone to perform surgery on your mouth, jaw or face is not a task to be taken lightly. Find Local Dentists is here to make your selection process stress-free and rewarding so that you can focus on achieving a healthier and more comfortable smile!