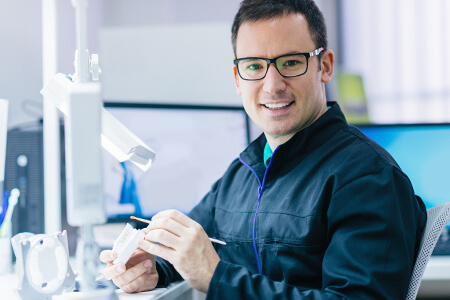 Prosthodontists
Missing teeth can pose a serious threat to your appearance as well as your speech, chewing function and overall dental health. While natural teeth can't grow back on their own, modern dentistry does offer some remarkable solutions in teeth replacement. When it comes to replacing a single tooth, multiple teeth or a full mouth of teeth, a prosthodontist is the most recognized and qualified expert for the job. Prosthodontists specialize in restorative dentistry and have received additional years of training in placing dental implants. Implants represent the gold standard in teeth replacement, as they can mimic your natural teeth better than any other restorative option.
If you are getting a brand-new smile, it is understandable why you need to feel confident and comfortable with the prosthodontist you choose. Let Find Local take the stress out of the search process. Our Find Local Dentists directory includes an easy to navigate list of some of the most top patient-rated prosthodontists in your geographical area. In just a few clicks, you can view a specialist's profile, explore their website and even read reviews left by their actual patients. It is possible to narrow down your potential prosthodontists in just minutes, which certainly accommodates the urgency involved in replacing a missing tooth.
Find a Top Patient-Rated Prosthodontist Near You
To avoid being overwhelmed and frustrated with your own Internet search for prosthodontists, we've done the legwork for you. Not only does our directory offer an easy way to contact the office directly, but we also give you extra tools to locate a provider that others have rated highly. Learn which prosthodontists have earned superior ratings from their patients, both past and present. In most cases, this can be all you need to feel comfortable in moving forward with scheduling your appointment.
Easy Access to Reviews about Prosthodontists
There's only so much insight you can gain from reading through a practice website or learning about a provider's credentials. Instead, hearing what others say about their experience with a certain prosthodontist can be most valuable. We understand that everyone has unique concerns and needs when it comes to choosing a prosthodontist. Whether you want one that accepts your insurance or one that other patients describe as gentle and personable, Find Local Dentists can help you find exactly what you are looking for.