Which Is Better? Veneers vs Lumineers
Published on: May 2, 2021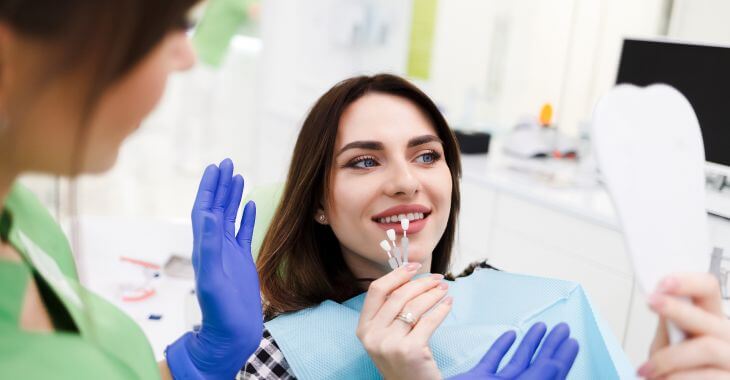 Imagine seeing a perfect smile when you look in the mirror. Dental imperfections can disappear with a smile makeover using dental veneers. Cosmetic dental veneers or Lumineers both can hide imperfections and create the smile you always wanted, but there are differences between the two dental treatments. Lumineers vs veneers, which is better? It may depend on the individual and their preferences. Here are some of the differences and why one may be a better option for you than the other.
What Are Dental Veneers?
Cosmetic dental veneers are thin shells of porcelain (or other materials) that are used to cover the front or visible portion of the tooth. Porcelain veneers can create a new appearance for your smile without extensive cosmetic dental work to straighten teeth or fix flaws. Porcelain is the most desirable material for veneers; it is a very durable material that comes in white shades that are perfect for emulating teeth, and it does not stain as easily as natural tooth enamel.
To create dental veneers, the desired smile or tooth appearance is designed, and impressions are taken of the teeth. A dental lab creates the porcelain shields that are customized to fit the patient's teeth and create the desired appearance. To attach dental veneers to teeth, enamel must be removed to allow room for the thin porcelain coverings. Although porcelain veneers are very thin, they do require enough space to look natural. Most cosmetic dental veneers can last about ten years before they need to be removed or replaced – porcelain veneers can last 15 years or longer.
What Are Lumineers?
Lumineers are a type of dental veneers, but a brand-name with some distinct differences. Lumineers are made from a proprietary porcelain designed by DenMat Lab that is ultra-thin and made to fit over teeth without needing tooth alterations. Like traditional porcelain veneers, Lumineers can create a more attractive smile by covering some imperfections and flaws on the teeth. Every set of Lumineers is customized to fit the shape of the patient's teeth and designed to create the desired smile appearance.
There are a few differences that set Lumineers apart from dental veneers. First, Lumineers require less prep-work and little to no changes to the tooth structure. The super-thin laminate veneers can be placed over enamel, which many people prefer. Lumineers usually require fewer visits to the dentist for the treatment and may have a smaller price point than porcelain veneers.
Pros and Cons: Veneers vs Lumineers
If you are considering a smile makeover with veneers or Lumineers, you need to research which is best for you. When it comes to Lumineers vs veneers, there are pros and cons to each option. Price, preparation, durability, performance and permanence are all variables to consider when deciding between porcelain veneers vs Lumineers. Here is a breakdown of pros and cons to each type of cosmetic dental treatment.
Porcelain Veneers Pros and Cons

Porcelain veneers are considered the gold standard of smile makeover options. You can achieve whiter, natural-appearing teeth with veneers due to the slightly thicker porcelain used. Some of the pros of porcelain veneers include:

Durable – porcelain veneers can last 15+ years
Veneers can hide more severe imperfections
Hide gaps, discolorations, stains, crooked teeth and uneven teeth
Brighter, white teeth
Complete coverage for dark teeth

The downside or cons of porcelain veneers are the permanence of the procedure and cost. Porcelain veneers require permanent removal of enamel and reshaping the teeth. Once you have veneers, you will always need a covering for your teeth. Porcelain veneers are also more expensive than Lumineers due to the extra preparation time and temporary veneers that are placed on the teeth.

Lumineers Pros and Cons

Lumineers offer a quicker, less permanent option for a smile makeover compared to porcelain veneers. Pros include:

Little or no tooth enamel removal
Lower cost than porcelain veneers
Less time for preparation
Lumineers can still hide many smile flaws
Removable and no permanent tooth loss
Comparable lifespan to veneers

The cons of Lumineers are the limits to hiding flaws and the possible irritation. Lumineers are super-thin, allowing them to be placed over enamel, but you will not be able to cover the same level of imperfections. The Lumineers shells may not appear as white as porcelain veneers and they can irritate the gum tissue.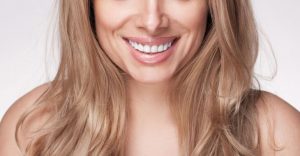 Veneers vs Lumineers – which is better for you? That depends on your preferences and what your expectations are for your smile makeover. Both offer beautiful options to change and improve your smile's appearance. To learn more about the differences, and which is best for your needs, contact a cosmetic dentist that offers both porcelain veneers and Lumineers. Schedule a consultation to discuss which of these products and procedures can help you obtain the smile you desire.
Was this article helpful?
The information provided on this website, including text, graphics, images, and other materials, is intended solely for informational purposes and should not be used as a substitute for professional medical advice, diagnosis, or treatment.