Are There Clear Choice Dentures?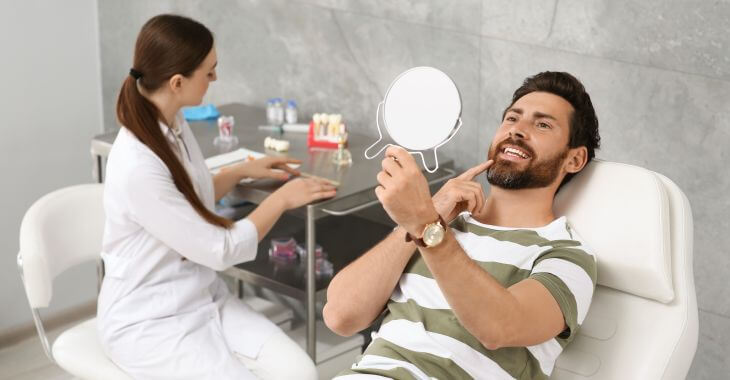 If you have missing teeth, you may have been interested in commercials featuring Clear Choice and their "teeth-in-a-day" smile replacements. For those looking for an alternative to dentures, Clear Choice offers dental implants. Clear Choice "dentures" are prosthetic teeth attached to dental implants.
What Is Clear Choice?
Clear Choice is a chain of dental implant centers that offers on-site, one-day dental implant procedures. While many dentists offer dental implants, many do not have on-site laboratories that can make dental restorations. Clear Choice dental implant centers offer the following:
Dental implant restorations completed in one day
All-on-4 dental implants
All-inclusive pricing
Full mouth restorations
The All-on-4 dental implants are a form of hybrid dentures. Clear Choice creates full arches for the upper and lower teeth that are attached to dental implants. Clear Choice "dentures" are screwed onto four implants on each arch, but these are different than traditional dentures.
How Do Dental Implants Work?
Dental implants are titanium posts that are inserted into the jawbone. The metal is made to fuse to the bone, which occurs in a few months are the implants are surgically placed. The top of the implant has an abutment that can be attached to prosthetic tooth restorations.
Dental implants can replace single teeth by attaching a dental crown to the abutment. There are also options to replace a full arch by attaching dentures. Clear Choice offers All-on-4 dental implants, which is an advanced option for full mouth restoration.
Dental Implants vs Dentures
There are many reasons to choose dental implants over dentures. Dental implants are attached to your jawbones, securing your prosthetic teeth like natural teeth roots. No adhesive is needed to keep teeth in place like dentures. Some of the advantages include:
Dental implants stimulate bone growth to reduce bone loss
Implants have a high success rate – 95%
Dental implants can last for 25 years or longer vs 7-10 years for dentures
No slipping or moving when eating or talking
Dental implants do cost much more than dentures, but they also last longer and provide better comfort. Dentures or dental bridges can cause damage to surrounding teeth, while dental implants do not harm any existing teeth.
Benefits of All-on-4 Dental Implants
There are many types of dentures that are secured by dental implants. Snap-on and overdentures are supported by dental implants, but they are different than All-on-4 dental implants offered by Clear Choice. Some of the benefits of All-on-4 versus implant-supported dentures include:
Prosthetic teeth stay in place
Stronger bite
Teeth are cleaned by brushing and flossing like natural teeth
Last longer – Clear Choice claims their dental implants can last a lifetime
The roof of the mouth is not covered
Fewer implants needed – most implant-support dentures require 6-8 implants
Clear Choice All-on-4 dental implants can be completed in one visit
The Clear Choice "dentures" that are attached to the four implants are designed differently. While they may look similar to dentures, the upper teeth do not have a plastic or acrylic palate that covers the mouth. This allows for better comfort and improved function compared to dentures.
Does Clear Choice Do Dentures?
Unlike many dental centers that offer both dental implants and dentures, Clear Choice does not offer traditional dentures. They are a dental implant center that specializes in providing tooth restorations using implants that are placed into the jawbone.
What to Expect at Clear Choice
If you decide you want to explore Clear Choice "dentures" for smile restoration, you will start with a consultation. This is an opportunity to talk to the oral surgeon who will perform the procedure and a 3D CT scan is performed to determine the best treatment plan for you.
One of the benefits of Clear Choice over other dentists that offer implants is that everything is completed at their facilities. The imaging, surgery, and prosthetics are all done on-site. This saves time and allows Clear Choice to offer all-inclusive pricing.
When you leave your consultation, you will be given pricing for your treatment plan. This includes the surgery, prosthetics, and all aspects of creating your new smile. While it is a significant investment, there are financing options available to provide affordable payments for your new smile.
Need Dentures? Clear Choice May Be a Better Option
Whether you already have dentures or are considering dentures to replace missing teeth, you may want to explore dental implants. Clear Choice has dental implant centers all over the country that offer All-on-4 dental implants for full mouth restorations and other dental implant options.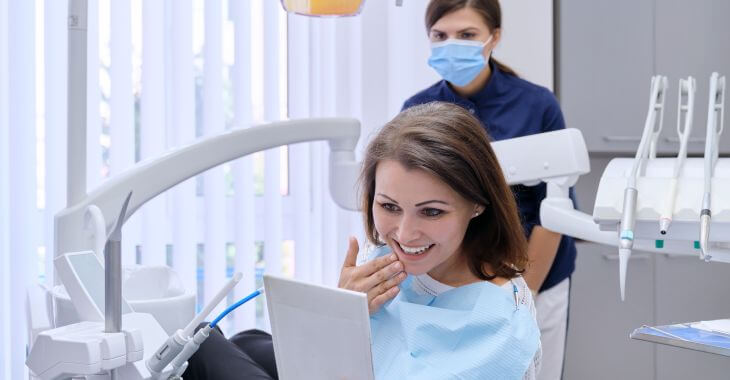 Does Clear Choice do dentures? Not traditional dentures, but they can provide you with a new smile with their dental implants. To learn more, contact a Clear Choice dental implant center near you to schedule your free initial consultation to see if All-on-4 dental implants are right for you.
Was this article helpful?
The information provided on this website, including text, graphics, images, and other materials, is intended solely for informational purposes and should not be used as a substitute for professional medical advice, diagnosis, or treatment.