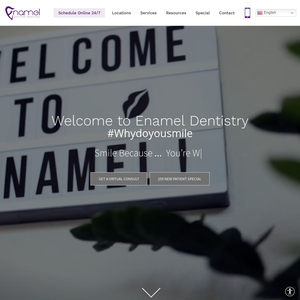 About Enamel Dentistry
Chipping a tooth is no laughing matter. In fact, it can be just the thing that makes you cover up your smile and avoid laughing in front of others. Whether your tooth fracture involves a front, visible tooth or a back molar that you need for chewing, trust Enamel Dentistry for a seamless repair. We understand the aesthetic and functional consequences of a chipped tooth. While we are eager to restore these components of your smile, we also want to save your tooth from further harm. A chipped, cracked or broken tooth can become a threat to your oral health. This is especially true if the damage has extended past your outer tooth layer. Therefore, prompt treatment is highly important.
At Enamel Dentistry, we offer Austin families the best that modern dentistry has to offer. Our attention to detail, friendly approach and expansive capabilities make us a place you can trust for your entire family. Dr. Patel offers a full range of dental services, including preventive, restorative and cosmetic treatments. Therefore, if you are suffering from an unexpected dental concern such as a chipped tooth, you can be confident that we can handle it at Enamel Dentistry. In many cases, we can see patients on a walk-in basis or the same day they call.
We don't settle for anything less than exceptional when repairing a chipped tooth. Depending on the location and size of your tooth damage, we may offer tooth-colored dental bonding, a custom dental crown or dental implant if the tooth has suffered severe harm. Regardless of the extent and cause of your chipped tooth, you can depend on Enamel Dentistry for a comfortable experience and seamless results. We also offer sedation dentistry as a part of our commitment to modern, stress-free dental care.
If you need a top quality crown or other repair for your chipped tooth in Austin, call Enamel Dentistry today. We have an experienced dental team that is waiting to restore your smile to its healthiest and most attractive condition.
Procedures
Bonding
Emergencies
Extractions
Invisalign
Restorative Treatment
Root Canal Therapy
Sedation Dentistry
Teeth Whitening
TMJ Treatments
Veneers
Enamel Dentistry Locations
Address
2717 S Lamar Blvd #1086
Austin
,
Texas
78704
Opening hours
monday:

8:00 AM - 7:00 PM

tuesday:

8:00 AM - 7:00 PM

wednesday:

8:00 AM - 7:00 PM

thursday:

8:00 AM - 7:00 PM

friday:

8:00 AM - 12:00 PM

saturday:

Closed

sunday:

Closed
Address
1606 E Parmer Ln. Suite #125
Austin
,
Texas
78753
Opening hours
monday:

10:00 AM - 7:00 PM

tuesday:

10:00 AM - 7:00 PM

wednesday:

8:00 AM - 5:00 PM

thursday:

8:00 AM - 5:00 PM

friday:

8:00 AM - 5:00 PM

saturday:

Closed

sunday:

Closed
Address
7415 SW Parkway Building 6 #200
Austin
,
Texas
78735
Opening hours
monday:

10:00 AM - 7:00 PM

tuesday:

10:00 AM - 7:00 PM

wednesday:

8:00 AM - 5:00 PM

thursday:

8:00 AM - 5:00 PM

friday:

8:00 AM - 5:00 PM

saturday:

Closed

sunday:

Closed