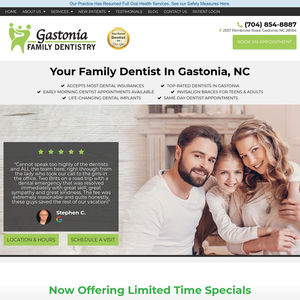 About Gastonia Family Dentistry
A chipped tooth needs attention. Not only is your smile appearance threatened, but your dental health is at risk too. At Gastonia Family Dentistry, we take pride in our ability to provide excellent results in chipped tooth repair. Our office is equipped to offer full service dentistry, including general, restorative and cosmetic services for children through senior adults. Therefore, you can trust that your tooth damage will be handled with the utmost precision and care.
Whether you have a crack, chip or full break in your tooth, our dental team is qualified to restore it. Dr. Kingsbury, Dr. Pope, and Dr. McKinney are trained to repair your smile with solutions that blend naturally and function strongly. If you have a minor crack in your tooth enamel, dental bonding can often be used. This is a simple, cost effective service that uses tooth-colored composite resin. However, if your chipped or broken tooth demands more extensive repair, we can offer a same day dental crown at Gastonia Family Dentistry. We help patients avoid messy impressions and temporary crowns using our state-of-the-art CEREC technology. Your crown will look beautiful and fit comfortably for years to come.
While our Gastonia practice invests in the latest dental technologies to serve our patients best, we never forget the importance of a compassionate and personalized approach in dental care. Patients of all ages can expect a comfortable and relaxing visit at Gastonia Family Dentistry. Our dentists take the time to explain your treatment options, and we offer a variety of valued amenities to make you feel at home. We even have ways to accommodate your tight budget and busy schedule.
If you or a member of your family needs chipped tooth repair in the Gastonia area, call our office today. We will do our best to see you as soon as possible so that you can regain the healthy, comfortable and attractive smile you deserve. For patients that need complex care for their damaged smile, such as teeth replacement, we can help you. Gastonia Family Dentistry offers dental implants, bridges and dentures.
Procedures
CEREC One Day Dental Crowns
Cleanings Checkups
Dental Implants
Dentures Partials
Orthodontics
Root Canal Therapy
Teeth Whitening
Veneers
White Fillings
Wisdom Teeth Removal
Gastonia Family Dentistry Locations
Address
2557 Pembroke Road
Gastonia
,
North Carolina
28054
Languages spoken: English
Opening hours
monday:

8:30 AM - 4:30 PM

tuesday:

7:00 AM - 5:00 PM

wednesday:

7:00 AM - 5:00 PM

thursday:

7:00 AM - 5:00 PM

friday:

8:30 AM - 4:00 PM

saturday:

Closed

sunday:

Closed