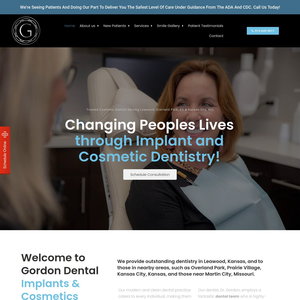 About Gordon Dental of Leawood
If a chipped tooth is causing you pain or threatening your self-esteem, turn to Gordon Dental of Leawood. We offer the most advanced treatments towards chipped tooth repair in a comfortable environment. Our Leawood practice is known for our compassionate, patient-centered approach to complete family dentistry, which includes services to protect your oral health, restore tooth damage and improve your smile appearance.
When it comes to a chipped or cracked tooth, we understand the damage was likely unexpected. Therefore, you can trust that we will do everything we can to see you as soon as possible. Gordon Dental of Leawood offers same day dentistry, emergency care and flexible scheduling opportunities, including extended weekday hours and Saturday appointments. We care about your smile and never want our patients to suffer longer than they have to. A beautiful, long-lasting solution to your chipped tooth is waiting for you at Gordon Dental of Leawood.
Our practice is led by an esteemed family, cosmetic and implant dentist, Dr. Philip Gordon. He is qualified to address all types of tooth damage, whether your chipped tooth can be fixed with tooth-colored bonding or needs a full custom crown. If your fractured tooth cannot be saved, you can trust our practice to deliver excellence in dental implants. We use digital x-rays, 3D imaging and other advanced technologies to ensure your dental restorations are flawless.
At Gordon Dental of Leawood, we work hard to ensure that every patient is given a relaxing visit. For your comfort, we offer a beverage bar, headphones, neck pillows and more. Dr. Gordon is also qualified to administer sedation dentistry for patients who experience anxiety during dental services. Whether you have a child that chipped a tooth on the playground or you broke your own tooth at a dinner party, our staff welcomes the opportunity to restore your smile the way you deserve. Neglecting to get prompt treatment for your chipped tooth could lead to worsening and more costly dental problems in the future.
If you live or work in the Leawood area and need affordable cracked tooth repair, call our office today. Dr. Gordon stays at the forefront of his field so that patients have every opportunity to maintain a healthy and attractive smile through all stages of life.
Procedures
Cleanings Checkups
Composite Fillings
Digital X-ray
Full Mouth Reconstruction
Halitosis Treatment
Implant Restorations
Orthodontics
Porcelain Veneers
Restorative Treatment
Wisdom Teeth Removal
Gordon Dental of Leawood Locations
Address
3628 W 95th St Leawood
Leawood
,
Kansas
66206
Languages spoken: English
Opening hours
monday:

8:00 AM - 6:00 PM

tuesday:

8:00 AM - 6:00 PM

wednesday:

8:00 AM - 6:00 PM

thursday:

8:00 AM - 6:00 PM

friday:

8:00 AM - 6:00 PM

saturday:

Closed

sunday:

Closed