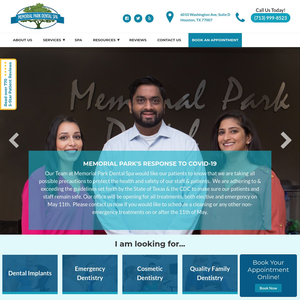 About Memorial Park Dental Spa
When choosing Memorial Park Dental Spa in Houston, you'll be treated to exceptional care and a rewarding experience. We take extra measures to ensure your visit is not only comfortable, but relaxing and refreshing as well. We offer a full service spa menu, cutting-edge dental technology and a compassionate approach. While we adhere to excellence in preventive dental care, we also understand that your teeth can suffer unexpected damage from time to time. Therefore, Memorial Park Dental Spa also offers top quality solutions in restorative and cosmetic dentistry to address cracked and chipped teeth.
Dr. Nishano Thomas is an esteemed Houston dentist who is passionate about helping patients achieve a healthy and beautiful smile at all stages of life. When it comes to chipped tooth repair, she combines her cosmetic dentistry talent with her restorative dental skills to create the most long-lasting and aesthetically pleasing results. Depending on the size and location of your tooth damage, Dr. Thomas may recommend one or more services, such as dental bonding, a crown or root canal. If your tooth fracture is not jeopardizing your oral health but is a significant threat to your smile appearance, you may choose beautiful porcelain veneers from our menu of cosmetic dental services.
There is no tooth damage that we can't handle at Memorial Park Dental Spa. Our team uses a meticulous approach to your smile with access to today's most advanced dental technology. We believe that modern dentistry offers ways to help you repair damaged teeth faster and more comfortably. Our solutions are intended to give you the most long-term return on your dental investments. Speaking of investments, we offer financing options through third-party companies as well as a popular savings plan in house.
If you or a member of your family wants chipped tooth repair in a comfortable, serene environment, choose Memorial Park Dental Spa. We look forward to restoring your smile in Houston.
Procedures
Cleanings Checkups
Dental Bridges
Dental Crowns
Dental Implants
Emergencies
Orthodontics
Porcelain Veneers
Sedation Dentistry
Teeth Whitening
TMJ Treatments
Memorial Park Dental Spa Locations
Address
6010 Washington Ave, Suite D
Houston
,
Texas
77007
Languages spoken: English
Opening hours
monday:

11:00 AM - 7:00 PM

tuesday:

11:00 AM - 7:00 PM

wednesday:

Closed

thursday:

7:00 AM - 3:30 PM

friday:

7:00 AM - 3:30 PM

saturday:

7:00 AM - 3:30 PM

sunday:

Closed