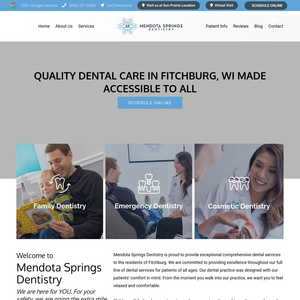 About Mendota Springs Dentistry
Getting your chipped tooth repaired can be a pleasant experience when choosing Mendota Springs Dentistry. In fact, we offer state-of-the-art care throughout a wide variety of dental services, ranging from general and restorative dentistry to cosmetic and pediatric dentistry. If you are suffering from a chipped tooth, we understand that it can be both an aesthetic and functional issue. Therefore, you'll be happy to know that our chipped tooth repair involves solutions that look natural and deliver sustainable results.
Our Fitchburg dental practice treats patients of all ages, from the youngest member of your family to your aging parent. Dr. Vivienne Zhang leads Mendota Springs Dentistry as an experienced dentist who values the patient behind the smile. That's why we go above and beyond to not only deliver superior results but to create a comfortable and rewarding experience along the way. Whether we are bonding your chipped tooth with composite resin or customizing a full dental crown to cover the damage, you can trust Mendota Springs Dentistry to restore your smile.
Are you struggling to find time in your schedule to get your chipped tooth fixed? Perhaps your tooth damage is causing pain and you need to be seen today. We can help. Mendota Springs Dentistry proudly offers emergency dental care and same day dentistry services. In addition, we see patients as late as 8pm on certain weekdays, and we offer Saturday time slots as well. It has never been easier to address your dental concerns.
As a reputable restorative and cosmetic dentist, Dr. Zhang will repair your tooth fracture with attention to aesthetics and function. We value the importance of prompt treatment to help patients avoid the risk of further dental problems. When the enamel (outer layer) of your tooth is damaged, the tooth becomes more vulnerable to decay, infection and sensitivity.
Schedule your chipped tooth repair from Fitchburg's most trusted dentist. Mendota Springs Dentistry welcomes the opportunity to help children and adults regain a beautiful and healthy smile.
Procedures
Childrens Dentistry
Chipped Tooth Repair
Cleanings Checkups
Dental Crowns
Emergencies
Esthetic Dentistry
Gum Disease
Nitrous Oxide
Restorative Treatment
TMD Therapy
Mendota Springs Dentistry Locations
Address
6317 McKee Rd Suite 500
Fitchburg
,
Wisconsin
53719
Languages spoken: English
Opening hours
monday:

10:00 AM - 7:00 PM

tuesday:

8:00 AM - 7:00 PM

wednesday:

9:00 AM - 4:00 PM

thursday:

10:00 AM - 7:00 PM

friday:

8:00 AM - 2:00 PM

saturday:

Closed

sunday:

Closed