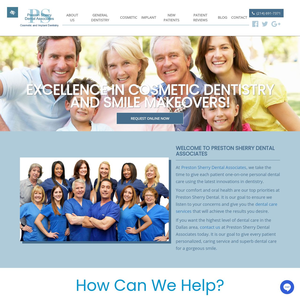 About Preston Sherry Dental Associates
Repairing a chipped tooth is easy when you choose Preston Sherry Dental Associates. At our Dallas practice, we have the experience and knowledge to restore your smile in the most comfortable, hassle-free manner possible. We have a dynamic team of dentists who are qualified to offer services in general, restorative and cosmetic dental care. This means that we can address your chipped tooth or other dental concerns with treatments that meet your unique preferences and needs. We proudly treat both kids and adults with the latest and most proven techniques in modern dentistry.
Your smile is a powerful asset. It provides influential aesthetics as well as important functional capabilities. When a portion of your smile suffers harm, it can be disruptive to say the least. However, when choosing Preston Sherry Dental Associates for your tooth repair in Dallas, you'll be met with prompt and professional solutions. We don't want you to endure a chipped tooth longer than you have to, and we can help you avoid further complications with early treatment. Whether your chipped tooth needs tooth-colored bonding, a dental crown or an inlay or onlay, we can deliver the unrivaled care and beautiful results you deserve.
Comfort and convenience are paramount at Preston Sherry Dental Associates. We offer several soothing amenities to put patients at ease. Sedation dentistry is always available for those who need additional help staying calm during their services. To ensure we can repair your chipped tooth in a timely manner, our Dallas office reserves time in our daily schedule to provide emergency dental treatments or to see patients the same day they call. We will even help you fit your unexpected dental treatments into your budget by offering flexible payment options and financing plans. Dental care, whether planned or urgent, can finally be stress-free at Preston Sherry Dental Associates.
Call today to learn more about our beautiful custom crowns or other restorations for chipped teeth. We welcome the opportunity to help you regain a confident smile!
Procedures
Cleanings Checkups
Composite Fillings
Cracked Tooth Repair
Dental Crowns
Dental Implants
Emergencies
Implant Restorations
Porcelain Veneers
Sedation Dentistry
Teeth Whitening
Preston Sherry Dental Associates Locations
Address
6134 Sherry Ln Dallas
Dallas
,
Texas
75225
Languages spoken: English
Opening hours
monday:

7:00 AM - 4:00 PM

tuesday:

7:00 AM - 4:00 PM

wednesday:

7:00 AM - 4:00 PM

thursday:

7:00 AM - 4:00 PM

friday:

Closed

saturday:

Closed

sunday:

Closed