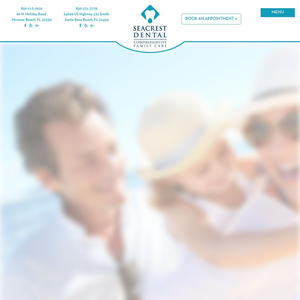 About Seacrest Dental
If you need a trusted dentist to fix your chipped or broken tooth in Miramar Beach, choose Seacrest Dental. We are happy to serve you with comprehensive dental care in a warm, relaxing environment. Whether you have a planned visit or an urgent dental concern, we promise to give you the smile results you need and the experience you deserve. In fact, Seacrest Dental is known for quality, convenience and value when it comes to addressing your dental needs.
Did you bite down on something too hard at lunch? Perhaps your child had a bad fall off the playground slide. Whatever it is that caused your chipped tooth, you can depend on us to fix it. Our dentists are trained in all facets of dentistry, and they have specialized experience in cosmetic and restorative dentistry. Therefore, when your natural teeth suffer damage or even fall out, we are equipped to restore your smile to optimal health and appearance.
Depending on where your tooth chip is located and the severity of the damage, we will recommend a prompt repair option. Our dentists offer tooth-colored bonding, root canals, custom crowns and much more. We are so confident in our workmanship that we offer a five-year guarantee on all the dental work that we perform in our office, provided that you follow the recommended treatment and you keep all your scheduled cleaning visits.
If you need chipped tooth repair for yourself or your family member, call Seacrest Dental today. We know that time is of the essence when it comes to damaged teeth. Therefore, you can expect flexible, same day scheduling options for your convenience.
Procedures
Chipped Tooth Repair
Dental Bridges
Dental Crowns
Dentures
Gum Disease
Implant Restorations
Teeth Whitening
TMJ Treatments
Tooth Colored Fillings
Veneers
Seacrest Dental Locations
Address
66 N. HOLIDAY ROAD
Miramar Beach
,
Florida
32550
Languages spoken: English
Opening hours
monday:

7:00 AM - 6:00 PM

tuesday:

7:00 AM - 6:00 PM

wednesday:

7:00 AM - 6:00 PM

thursday:

8:00 AM - 4:00 PM

friday:

8:00 AM - 4:00 PM

saturday:

Closed

sunday:

Closed