Do Veneers Ruin Your Teeth?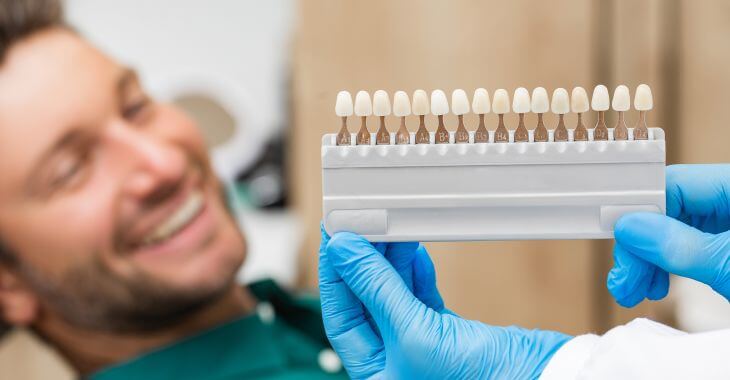 When you see actors or models with perfect teeth, you are often seeing the work of a cosmetic dentist. Few people have perfectly straight teeth that are white and even naturally – even with orthodontic treatment it can require cosmetic dentistry to achieve those perfect smiles. Veneers have been used for decades by models, actors, celebrities and anyone who wants a perfect smile. What is this cosmetic treatment and is it safe? Do veneers ruin your teeth? Here is what you need to know about dental veneers.
What Are Dental Veneers?
If you have chips, discolored teeth or small imperfections throughout your smile, veneers can hide flaws and portray a beautiful smile. Dental veneers are made of a thin material, usually porcelain, that are attached to the outside of the teeth. While there are "snap-on" veneers that can be put over teeth and removed, these do not usually look natural. True dental veneers are made of individual shells of porcelain that are bonded to each tooth to create the desired appearance, giving you a smile makeover.
Benefits of Cosmetic Veneers
It can be extremely expensive and time consuming to achieve the desired smile through dentistry. Braces, dental crowns, white fillings and much more may be needed to fix multiple issues that impact the appearance of the smile. Cosmetic dental veneers are a quicker solution, covering those flaws behind a beautiful façade. Some of the benefits of dental veneers include:
Whiter teeth that stay white – porcelain does not stain as easy as tooth enamel
Quick results – you can have a new smile in as little as a few visits to the dentist
Perfect smile – it is difficult to obtain the exact smile you want through dental treatments
Veneers can last for several years or more before they need to be replaced
For many, veneers offer a chance to have the smile they always wanted without spending the time and money on dental treatments.
How Are Veneers Installed?
Veneers are bonded to the outside of the teeth. To make room for veneers, it is necessary to remove a thin layer of enamel. Once the layer of enamel is removed, impressions can be made of the teeth to create the molds for each veneer. In the past, physical molds of the teeth may be made, but that is no longer necessary. Most dentists use 3D digital imaging to create impressions of the teeth that are sent to the dental laboratory. Some dentists have 3D printers at their practice to create the veneers on-site, but many dentists will send the impressions to a dental lab.

If there is a wait for the veneers to be created, temporary veneers may be put on the teeth to protect them. Once the permanent veneers arrive, they can be bonded to the teeth. An etching process is completed to adhere the dental cement and veneer to the tooth. Once the cement cures, the veneers are in place and the new smile is ready to be shown to the world.
Are Cosmetic Veneers Safe?
Do veneers ruin your teeth? When performed by an experienced cosmetic dentist, veneers can be safe and effective for improving your smile. It is important that patients are examined to ensure they have enough enamel to spare before deciding to have veneers. Once the enamel is removed, it is gone forever, so it is vital to ensure you are a good candidate for this procedure. However, the layer of enamel removed is extremely thin and should not cause any harm to the teeth.
There are thousands of people who receive cosmetic veneers for their smile every year and most do not have any problems with their teeth due to veneers. This is a common procedure that is considered safe for oral health. It is important to still continue to perform routine oral hygiene and dental cleanings to maintain the health of teeth after the veneer procedure.

Are Dental Veneers Right for You?
The best way to determine if veneers could be right for you is to visit an experienced cosmetic dentist that specializes in veneers. Your dentist will carefully examine your teeth and discuss whether veneers are a safe option for improving your smile. If there are any health issues with your teeth like decay or cracks, these may need to be fixed before the veneers can be placed. During your consultation, your dentist may be able to show you what your new smile will look like with veneers with a digital simulation.
Do veneers ruin your teeth? The answer is no, as long as you are a good candidate for the procedure and trust an experienced dentist to perform your smile makeover. To learn more about dental veneers and whether they could be the solution for improving your smile, visit a cosmetic dentist in your area.
Was this article helpful?
The information provided on this website, including text, graphics, images, and other materials, is intended solely for informational purposes and should not be used as a substitute for professional medical advice, diagnosis, or treatment.