I Have No Back Teeth – What Are My Options?
Published on: August 7, 2022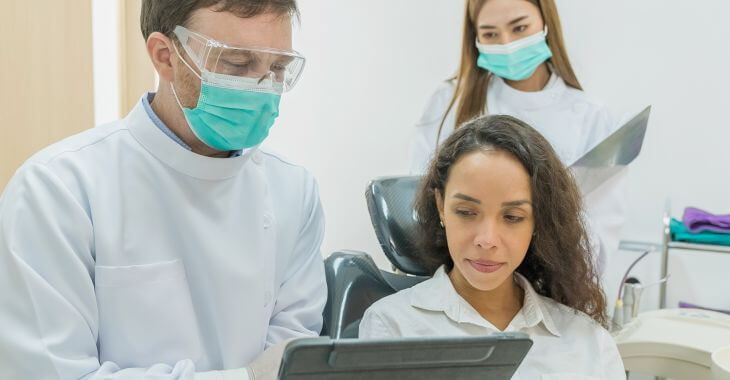 Your molars are the workhorses of your teeth. They provide the chewing power for the crunchy, healthy foods you want to eat. If you have missing back teeth, it can impact your oral and overall health. If you have wondered, "I have no back teeth – what are my options?" there are options for replacing molars.
Do I Need to Replace Missing Back Teeth?
Unlike front teeth that are very noticeable when they are missing, the back teeth are more discreet when they are lost. It may not seem as pressing to replace missing back teeth, but there are reasons to consider replacing molars. Some of the problems you can experience from missing molars include:
Difficulty chewing crunchy and tough food
More stress on the digestive system from poorly chewed food
Shifting of your existing teeth
Damage to front teeth from chewing
Your smile and health can be affected when you have no back teeth. What are your options? Let us look at the molar restoration options that are available.
Missing Back Teeth Solutions
When choosing a restorative dental option for replacing molars, you want to consider comfort, function and price. There are multiple missing back teeth solutions with pros and cons to each. Here are some of the best options for replacing missing back teeth.
Partial Denture
Dentures have been used in one form or another for centuries and they are still the most common replacement for teeth. The partial denture is a removable device that connects to your existing teeth to hold the device in place.
Pros. Partial dentures are the least expensive option for replacing missing back teeth.
Cons. Partial dentures are the least stable of the restoration options. They can fall out or slip, and they may be uncomfortable.
Fixed Dental Bridge
A dental bridge uses adjacent teeth to support a prosthetic tooth. Dental crowns are placed on the adjacent teeth that are connected to the replacements for missing teeth. This may not be an option if you are missing all your back teeth unless you have dental implants to support the bridge.
Pros. Dental bridges are fixed in place and look natural. They will not slip or move like partial dentures.
Cons. Dental brides are not feasible for replacing all the molars and their lifespan is fairly short, usually about 7 years.
Dental Implants
The premium option for replacing missing back teeth is the dental implant. The implant is fused to the jawbone and functions like a natural tooth. Each missing molar can be replaced by an implant with a titanium post and a dental crown connected to the abutment of the implant.
Pros. Dental implants are strong and fixed in place. They look and function like natural teeth and they stimulate bone growth to minimize bone loss. Many dental implants can last for decades.
Cons. Each implant can cost more than a complete partial denture, making it cost prohibitive for most people. You must also have enough bone to support multiple implants if you have no back teeth.
Implant-Supported Dentures
If you are missing all your molars, you may want to consider exploring a complete mouth restoration. There are hybrid options that use a few dental implants to support dentures, which can be a lasting solution. All-on-4, All-on-6 and other implant-supported overdentures are available.
Pros. Implant-supported dentures are sturdy, functional and attractive. They are less expensive than complete restoration of all molars using individual dental implants. You get the benefits of bone stimulation to maintain your facial structure.
Cons. While less expensive than implant restorations, implant-supported dentures are still much more expensive than traditional dentures. You would also need to have your front teeth removed for complete upper or lower arches.
What Is Right for You?
If you are missing all your back teeth, it is vital to find a solution that will restore your chewing power and support your existing teeth. Dental implants are the preferred option, whether they replace individual teeth, support a bridge or support hybrid/overdentures, but not everyone is a candidate.
Dental implants do require enough bone to support the post. If you have bone loss, you may need bone grafting to increase density before you can support implants. The implant-supported denture with few implants can be a good option for those with bone loss.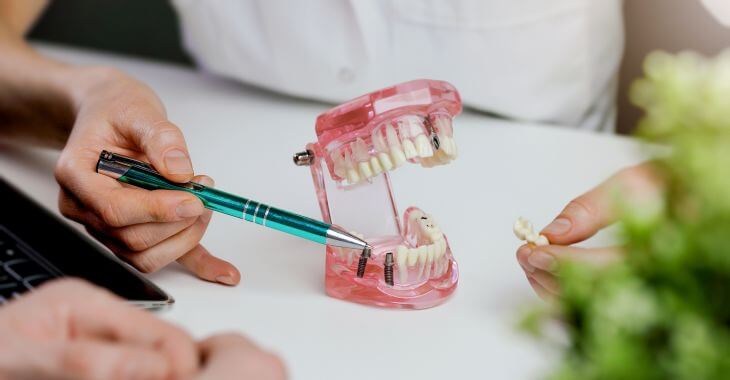 For many, price is a deterrent. Many people who choose dental implants look into financing their new teeth. There are many dentists that offer financing or payment plans to cover the costs of restoring missing back teeth.
Those who are missing all their back teeth have options for replacing their molars. To learn more about missing back teeth solutions, contact your local dentist who offers dental implants, bridges, dentures and other dental restoration options.
Was this article helpful?
The information provided on this website, including text, graphics, images, and other materials, is intended solely for informational purposes and should not be used as a substitute for professional medical advice, diagnosis, or treatment.